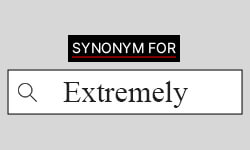 The word "extremely" is usually used to intensify the meaning of an adjective or adverb to a high degree.
Another word for "extremely" is immensely or significantly. However, more synonyms will be listed in this article.
Find suitable synonyms for your academic writing
On our overview page for synonyms, you can find the best options of synonyms for a vast variety of words that are used in academic writing.
"Extremely" – General synonyms
The following illustrates other words for "extremely" that may be used in everyday conversation as well as in academic writing.
Exceptionally
Greatly
Highly
Immensely
Incredibly
Intensely
Intensely
Markedly
Particularly
Profoundly
Severely
Significantly
Strikingly
Substantially
Supremely
Terribly
Ultra
Uncommonly
Unusually
Utterly
"Extremely" – Synonyms used in academic writing
In an academic context, the word "extremely" can be used in scientific research, studies, or projects to enhance the degree of a condition or situation.
However, more synonyms for "extremely" used in academic writing will be shown below.
Are you looking for suitable synonyms for "extremely" for your academic paper? Have a look at the table below with the top suggestions from our BachelorPrint-Team.
| | |
| --- | --- |
| "Extremely" Synonyms | Examples |
| Significantly | The results were extremely low in comparison to… |
| | The results were significantly low in comparison to… |
| Incredibly | The professor was extremely impressed with… |
| | The professor was incredibly impressed with… |
| Exceptionally | The article was extremely well-written. |
| | The article was exceptionally well-written. |