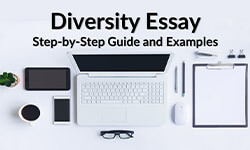 When applying to join a college, you may have to write a supplemental college essay detailing your personal life, including cultural background, identity, interests, and talents. Such an essay is known as a diversity essay. They provide an opportunity for the applicants to showcase their unique backgrounds. This article provides various guidelines on diversity essays and their importance. We will also share a few tips on how to write diversity essays.
Definition: Diversity essay
Diversity essays are usually short and reflective essays with a length limit of 500 words or fewer. They are often necessary for financial aid, grant, and scholarship applications. They may also be a requirement when applying for college and university admissions.
It is a personal statement or essay focusing on diversity, particularly in an academic context. It also aims to draw attention to your distinctive background, experiences, and perspectives, which set you apart from other applicants. Furthermore, the essay demonstrates and provides evidence of your potential to add value to a diverse community. Many colleges and universities use diversity essay prompts to inform admission decisions and eliminate biases. Here are three examples of such essay prompts:
Reflect on a time when you advocated for equity, diversity, and inclusion.
Applicants should submit a statement explaining how their admission to the college will contribute to a culture of inclusion and campus diversity.
Give an example of a time when you felt disconnected from a community or group. What did you learn from the experience, and how did you handle it?
Why do schools want a diversity essay?
Admissions officers may require diversity essays to ensure a diverse student body.
To understand how your unique experiences and background can contribute to the diversity of the campus community and enrich learning experiences.
To evaluate your capacity for reflective writing about your experiences and viewpoints.
To test your ability to communicate concisely and effectively.
Dos and don'ts of a diversity essay
Here are some tips on what to do and what to avoid when writing a diversity essay.
Dos
Be authentic and truthful. Write about your genuine background, experiences, and viewpoints.
Keep the focus on you and your strengths. Use concrete examples to support your points.
Make a connection in your essay between your values and the objectives of your target institution, highlighting how your application will benefit all parties.
It is important to emphasize your individual experiences to stand out. Focus on showcasing your qualities.
Use clear and concise language.
Don'ts
Avoid focusing too much on your challenges and struggles.
Avoid writing generic essays that feature clichés and stereotypes.
Avoid using complex jargon and fancy terminologies to impress the reader.
Diversity essay: How to enrich the campus community
Because of your unique background, experiences, and perspectives, you can impact the campus community in various ways. Here are some examples of identities or experiences you can write about in a diversity essay.
Belief systems and religion
Family circumstances
Gender and sexuality
Living with a disability
Nationality and race
Socioeconomic status
Sporting activities and talents
How to write a diversity essay: Sharing experience
Authentic stories are crucial as they allow others to understand your ambitions, experiences, and viewpoints.
Focus lies on yourself
It is essential to keep the focus on you when writing about your background, identity, and experiences. Doing so lets the reader comprehend your perspective and deduce why you stand out. Here is an exemplary text excerpt that demonstrates this step.
Sharing own experience
In a diversity essay, it is critical to emphasize how experiences have affected your perspective and promoted your personal development. The following is an exemplary text excerpt.
How to write a diversity essay: Impact on your life
In addition to your background, identity, and experiences, a diversity essay should include your outlook, actions, and goals toward enhancing diversity and inclusion.
Outlook, actions, and goals
Your outlook reflects your viewpoint on diversity, and your actions show the steps taken to address that perspective. Your objectives, on the other hand, demonstrate your long-term strategy for encouraging diversity. For example:
Adjust your essay to the university
Different universities may have different values and priorities when it comes to diversity. As a result, you may have to adjust your essay to match the requirements. Here is an example:
FAQs
It is a brief and concise essay to supplement your college application. It helps the admissions committee understand your unique background, experiences, motivations, and viewpoints.
Yes, it is. Including examples in your essay can make it more convincing and enhance the quality of your application. It is important to ensure that the text is free of any spelling, grammar, or punctuation errors.
You can provide details about how your personal experiences impact your outlook, activities, and objectives. You should also give reasons for your application and elaborate on why you are a suitable fit.