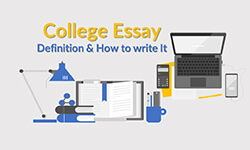 A college essay shows your qualities, communicates your values and provides additional information about you. This type of writing intends to set you apart from other students and explain why you should enrol at a particular college. To appear unique and persuasive, it is essential to write a college essay that represents an accurate and inspiring image of yourself. This article uses examples to explore the steps of writing an effective college essay.
Definition: College essay
A college essay, also referred to as a personal statement or a statement of purpose, is a paper that contains an engaging personal story: it's similar to creative non-fiction or memoir, which is required as part of a college application process. College essays are rich with personal introspection, self-awareness statements, and reflections. Its primary purpose is to show admissions officers your perspectives and experiences, ultimately, depicting an accurate, authentic, and inspirational image of yourself.
The length of a college essay
Most applications will specify the word count for college essays. However, the recommended maximum word count is often 650 words, so make your final word count between 400 and 600 words.
The topic of a college essay
First, outline your positive attitudes and brainstorm stories that highlight them. Next, think about your memorable life events and identify the values they show you.
A good college essay topic is:
Personal and meaningful to you
Unique or has an unusual angle
Reflects something unique
How to write a college essay
Start by effectively brainstorming on the best topic that highlights your values. Then, answer some questions like;
Do you have personal values?
What are they?
What sets you apart?
What are your successes and failures?
Next, use an essay outline to organize your ideas. The two standard college essay writing methods are vignettes and single narrative structures. You can also use a creative approach to structure your essay and employ storytelling techniques.
Vignettes are a series of stories that converge on a common theme. Vignettes highlight your qualities and values and end with a future outlook.
In contrast, a single-story structure shows your character development over time. You start with a single story and deliver the various lessons learned and the changes you've made.
The college essay structure is similar to typical essay writing; it has the following sections:
| | |
| --- | --- |
| Introduction: | Write an engaging introduction that captures your audience's attention here. |
| Body: | Here, use a creative style and tone, and strive to create an emotional response. |
| Conclusion: | End your essay with a deep insight that leaves a lasting impression on your readers. |
Revise and review your work to remove style, content, and grammar mistakes. Please adhere to the word count, check it several times, and get feedback from colleagues if possible.
College Essay: Dos and Don'ts
The table below shows the dos and don'ts of writing college essays:
Dos
Show what you know about the college.
Reflect on the part of your life or world.
Proofread your work.
Always seek feedback.
Use your voice.
Don´ts
Avoid reusing essays for different college applications
Don't say what you assume that the admissions officer wants to know.
Avoid relying on spell check alone.
Don't panic.
Your personal statement shouldn't reflect your resume.
College essay example
The below college essay is called "Grandma's Kimchi": An example submitted at the Common App: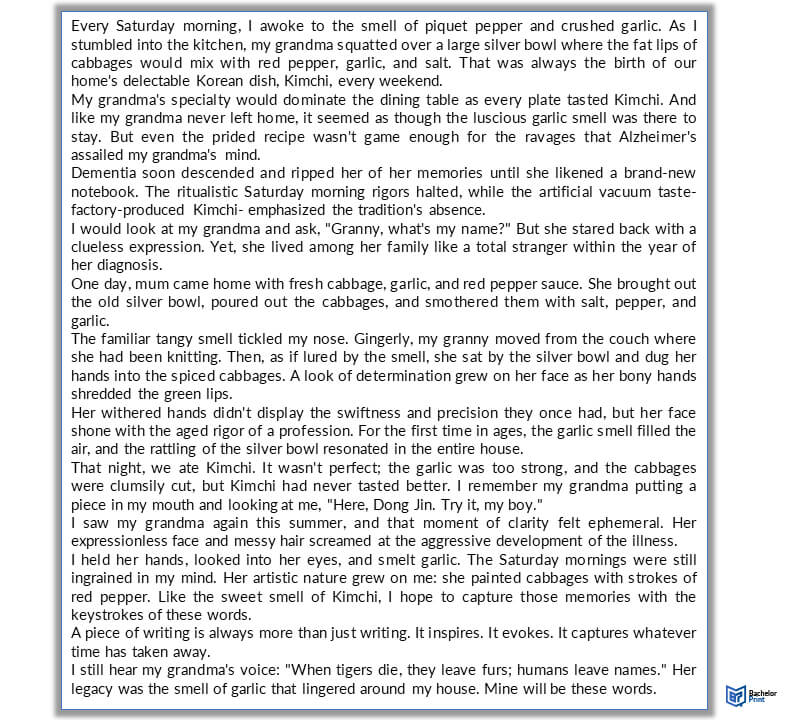 Overview of college essay articles
FAQs
Yes. However, ensure the question leads to an idea and does not just pose a rhetorical question.
You can reuse an essay for different applications, though it's not advisable. However, this isn't always the case because writing prompts change with various applications.
Most college essays don't need a title, but you can title your college essay to make it stand out.