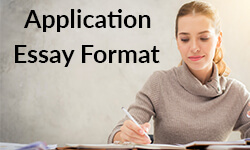 In academic writing an application essay is one of the requirements that students must complete when applying for college. The essay must follow specific guidelines known as the application essay format.
Read on for detailed information on the application essay format.
Definition:

Application essay format
An application essay is a requirement that students must fulfill as part of their college application process. It helps students demonstrate their writing skills and show their personalities when applying for college. It also helps students showcase what makes them stand out from other applicants.
An application essay format is a set of guidelines that help you organize and structure your ideas logically and the application essay format guidelines may differ depending on the formatting style.
An application essay format is important because it gives your essay a logical flow. Additionally, it demonstrates to the examiner or application board that you are capable of following simple instructions.
Application essay format: General rules
Application essay format guidelines may differ depending on the topic, formatting style, and institution. However, the following general application essay format rules are constant:
Word count
You should always consider the word count given in the instructions. You should go above or below the word count by only 10%.
Outline
The outline usually includes an introduction, body, and conclusion for all application essays.
Font size/style
Avoid complicated fonts and stick to standard ones like Times New Roman, Calibri, or Aria. The default font size is usually 12 pts.
Margins
Use a one-inch margin on each of the four sides of the page.
Paragraphs
The paragraphs should be formatted in 1.5 or double line spacing. Also, use left alignment to justify the text.
The table below demonstrates the dos and don'ts of an application essay format:
Dos
Follow the instructions provided
Ask for help if necessary
Don'ts
Assume anything regarding the format
Add decorative touches
Application essay format: Tips for writing
Besides the application essay format guidelines, your approach to writing the essay also matters. Here are some writing tips for a college essay:
Understand the prompt:
The prompt will guide your writing process. So, ensure that you have understood it before you start composing your essay.
Brainstorm and outline:
Once you have understood the prompt, the next step is brainstorming ideas for your essay. Next, create an outline for your essay based on the formatting guidelines.
Write the essay:
The next step is writing your essay. Ensure to employ creativity as you write.
Formatting your essay:
Follow the application essay format guidelines for application essays to format your essay.1
Edit and proofread:
After formatting, go through your essay and make changes where it is necessary. Also, check for minor mistakes like spelling errors.
Application essay format: Example
The following example will help you understand application essay format guidelines better:
Application essay format: What should you avoid?
While there are specific application essay format guidelines, there are also things you should avoid in your essay. Most formatting guidelines do not highlight the things to avoid when writing a personal application essay.
Avoid appearing self-interested or materialistic in your personal essay. Most colleges are turned off by students that are keener on what the school can offer them than how they can benefit the school. So, your personal essay should demonstrate what you can contribute to the college community.
Avoid rehashing your resume in your personal essay. The essay should be an opportunity to demonstrate things that are not in the resume. For instance, use it to demonstrate your personality, personal growth, views on the world, virtues, and personal qualities.
Avoid writing a generic personal essay. Colleges want to learn more about you from your personal essay. Therefore, your essay should be personable and specific. Use it to describe your interests and address specific issues. Also, do not shy off creative thinking and writing.
Avoid relying on your computer's spell checker. Most of these spell checkers are unreliable, and they may cause you to submit a paper full of mistakes. Instead, seek professional grammar and spell checker tools for editing your personal essay.