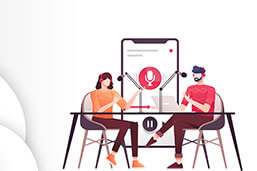 Citing a podcast in MLA format may seem daunting, as it includes unique components such as episode titles, hosts, podcast names, production companies, and publication dates. Podcasts are considered credible and reliable sources of information in research. They can be cited in various ways depending on several factors, primarily the writing style. This guide seeks to demystify the process, providing clear instructions for MLA podcast citation in different scenarios.
Definition: MLA podcast citation
MLA podcast citation is the method of citing a podcast in MLA style. Researchers usually cite specific podcast episodes in addition to:
Podcast's name
Season
Publisher
URL
Date
MLA podcast citations can also include a timestamp to highlight a specific quote.

MLA Works Cited Entry
Peterson, J., host. "The Collectors Review." The Looking Glass, season 6, episode 4, Universal, 15 June 2015, universalradio.com/podcasts/access-hgt6/-the-collectors-review.
MLA in-text citation
(Peterson 12:43)
MLA podcast citation: Entire series
You may have to cite an entire podcast series rather than a specific episode. This may occur when a podcast is relatively short and covers a central theme on air for most of its time.
MLA podcast citation of a whole series is structured as follows:
MLA format
Last name of the host, First name, host. Name of Podcast. Publisher name, year, range, URL.
MLA Works Cited Entry
Morrill, J, host. The Green Room. Roca, 2010-, www.rocaradio.org/shows/greenroom.
MLA In-Text Citation
(Morrill)
MLA podcast citation: From an app
If the podcast was accessed on an app rather than a website through platforms like Spotify, YouTube Music, or iTunes, list the version of the app accessed and any additional information you can find, such as the app publisher.
The MLA podcast citation for apps is formatted as follows:
MLA format
Host last name, First name, host. "Title of Episode." Name of Podcast, Name of App, season number, episode number, Name of Publisher, Day, Month, Year.
MLA Works Cited entry
Riley, Huey, host. "Comicon Wars." The Sauce, Spotify app, 15 May. 2016.
MLA in-text citation
(Huey 12:25)
In MLA podcast citation, the author generally refers to the host unless the researcher is primarily focusing on the contribution of another party besides the host, such as a guest or narrator.
Regardless of the case, MLA podcast citation requires that a label be included to identify the role of the author.