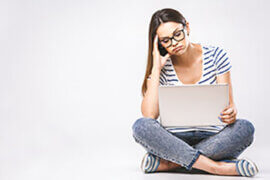 As a student, you will need to complete different assignments in various levels of study. Copying someone else's idea can be a severe offense that may result in harsh penalties. It would be wise to cite your sources efficiently to give credit to the original author using styles like the MLA format. Here is a detailed piece to help you understand the MLA format better.
The Modern Language Association approves the MLA format application in students' research writings and other scholarly manuscripts. It dictates how one needs to write, punctuate, and even cite sources in a document. Mostly, you will use the style to write assignments in literature, humanities, and cultural studies.
The MLA format will help build credibility in your work by demonstrating accountability to your source of information. Further, it protects you from plagiarism accusations. The uniformity and consistency in this type of reading allow instructors to go through your work smoothly.
MLA Format: Core Components
To carry out proper citation and referencing in the MLA format, you need to understand the core elements involved. They include:

You need to add the author's names as they appear in the document without abbreviating them. Start with the last name, a comma, the first name, the middle name initials, and end with a period—for instance, Peter, Homi G.
If you have more than one author, please include them sequentially in the way they appear in your source. For the second author, list them by the first name, then the last name. Further, if you source your work from an editor rather than an author, use last name, first name, editor format.

It's necessary to include the title of the exact source you are citing based on the MLA format. It may be an article chapter, a book, or an essay title. Include the title right after the author's names in italics or quotation marks based on the type of source.
It's worth noting that for citing an article, journal, or magazine, you need to use quotations and italics for the book title. For a song, include quotation marks for the song name followed by the album in italics. Also, remember to add URLs when citing online sources. For instance, Peter, John. The Hummingbird. Hurray 2006, for a book. Mercy, Susan. 'How to make vegetable soup' eHow www.ehow.com/how_1726_make vegetable soup.

While citing your information from more extensive parts of work, such as an encyclopedia, you may need to mention the source. If you base your research from a book, the chapter used becomes the title source, but the entire book is the title container. Also, it applies when you cite a website with multiple articles.
Present this title in italics, followed by a comma and a little information describing the container. For example, Lilian, DeWanda. 'Jamaican Girl' The vintage book of American Contemporary Short Stories, edited by Grace, Vintage, 2007, pp. 256-311.

Still, it would be best to mention other individuals relevant to your project while using the MLA format. Some examples include directors, performers, translators, editors, or illustrators. If your source contains several contributors, pick the one that seems more relevant to your work. Use terms like 'directed by' or 'performed by.'

In the MLA format, when citing a specific edition or translation of a piece of writing, you need to mention them. It applies to books, musical compositions, and films. Let your reader know the specific text you used by adding it in the entry. For example, Boniface, P.W Garner's Prepositions Usage, 2nd. Ed., Oxford: Clarendon Press, 2013.

If your sources appear part of a numbered sequence, you may need to indicate that too. For instance, volume numbers in books and journals; vol.6, no. 2. However, some journals may number their issues in sequences, and you will, therefore, indicate the exact issue number.

Based on the MLA format, it's necessary to acknowledge the producer who distributed the sources to the public. If you find more than one publisher relevant to your research, you can list them all, separating their names with a forward slash (/). Please note that you don't need to include publishers' names in journals, magazines, YouTube or word press contents, self-published work, and websites where the pages' titles appear similar to the publisher.

You may find multiple times on the sources, but you need to use what is relevant to your work. For instance, when using an online version of a print magazine source, you only need the date the online version was published. Include the exact day, month, year, and even time where possible. For print sources, carefully cite the precise date based on the release or edition used. You can find the date details on the title or copyright page, and it would be best to refer to the actual book since bibliographies may be imprecise.

Finally, you need to provide your work's specific location. It could mean anything from the particular pages, website URL, or a digital object identifier in an article. You can also indicate a physical location for artwork, for instance, a museum. Remember to end with a period.
Choose BachelorPrint for printing & binding your thesis:
MLA Format: Works-cited List
While using the MLA format, you need to organize your works cited list in an alphabetic sequence based on the author's last name. If your sources have no author, arrange by the first alphabet in the text title.
Create your cited list, on a new sheet at the end of your paper and indicate 'works cited' at the center top section. Secondly, add double-spaces in all the quotations. Let the first line in each entry start at the left margin then indent the subsequent by 0.5 inches to achieve a hanging indent. Remember to list the page numbers efficiently with the abbreviation 'pp.' for multiple pages and 'p' for one.
Check out the sample papers below with clearly labeled visuals to help you out:
MLA format is simply a citation style commonly used in humanity and literature documents.
Creating in-text citations will help refer the sources to provide the readers with evidence of the information available in your text.
The MLA format requires the use of some core elements in the 'works cited' entry. They include the author, source title, title of container, and other contributors, among others.
All entries in the works cited page need to correspond with the text cited in your paper.
Discover more useful articles: