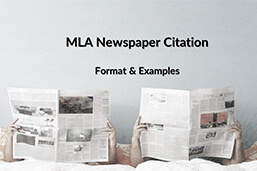 Citing sources properly is a crucial part of academic writing, and when it comes to referencing a newspaper article, MLA style offers specific rules. The different components that must be included are the author's name, article title, newspaper name, publication date, and page numbers. The aim of this guide is to ease the process of implementing MLA newspaper citation, providing a clear understanding of online and printed newspapers to ensure your references are accurate.
Definition: MLA newspaper citation
An MLA newspaper citation is a type of reference formatted according to the MLA style guide with the purpose of giving porper credit to the original source retrieved from a newspaper. It is usually composed of the author's name, the title of the article and the newspaper,  the publication date, and where the information within the newspaper is from  (like page numbers). It's an organized way of recognizing the source of information and is often used in academic papers and research contexts.

MLA newspaper citation: Printed copies
Although many newspapers are published online, lots of articles can only be accessed on the print versions. To cite these articles, you must use the following format:
| | |
| --- | --- |
| MLA Format: | Last Name of Author, First Name. "Title of Article: Subtitle." Newspaper Name, Publication Date, Number of the Page. |
| MLA Works Cited Entry: | Smith, Bill. "Three Shot on Chicago Street Ramp." Chicago Times, 18 Aug. 1992, p. B6. |
| MLA In-Text Citation: | (Bill, B6) |
If the name of the author isn't included in the article, you can start the MLA newspaper citation with the heading of the news story. You can also write in-text citations for MLA newspaper stories that don't have listed authors. In this case, you will only use the starting words of the title. These words should be in quotation marks. For example, "Three Shot". Another thing to note is that you won't need to include the page number in cases where the article only covers a single page.
MLA newspaper citation: Online articles
You will usually not need to include the page number when citing online articles since these publications aren't normally organized in pages. Again, if the article does not have a listed author, the in-text citation will only contain the starting words of the article title.
For example, the story above could be cited as ("Indigenous Peoples'.")

You can also refer to online newspapers when writing your dissertation. In this case, you should follow this format for MLA newspaper citation:
| | |
| --- | --- |
| MLA Format: | Last Name of Author, First Name of Author. "Title of News Story: Subtitle." Name of Site, Date of Publication, URL. Day Month Year that site was visited. |
| MLA Reference List Entry: | Smith, Bob. "Indigenous Peoples' Day." NBC New York, 10 Oct. 2022, https://www.nbcnewyork.com/news/local/indigenous-peoples-day-sukkot-columbus-day-what-holiday-is-today/3900636/. Accessed 13 Oct. 2022. |
| MLA In-Text Citation: | (Bob) |