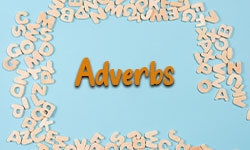 Adverbs are essential to English grammar, functioning as adaptable modifiers that can change the meaning of other parts of speech. They also add nuanced layers to "how," "where," "when," and "to what extent" questions for more clarity and emphasis. Understanding their function and positioning them is crucial for mastering the subtleties of language rules, as they can significantly alter sentence structure and meaning.
Definition: Adverbs
The word derives from the two syllables: "ad" + "verbum," originating from the Latin word "adverbium." Its etymology has the literal meaning of a "word added to a verb" and acts as a modifier. Although the definition explicitly states that a verb is modified, other parts of speech like adjectives, phrases, or entire sentences can also be modified by providing additional information about the manner, frequency, time, place, and degree of something happening.
Adverbs often have the distinctive characteristic of ending with "-ly." This, however, is not a set rule that helps recognize them, as there are exceptions, where they take on the same form as their adjective counterparts, as well as, some adjectives ending with "-ly."
Modifying verbs
In most cases, adverbs add more information to verbs to enrich the context. In other words, they indicate how an action is executed or occurs.
Here, the purpose is to create a more detailed and clearer understanding of the occurrence. Each example refers to a different type of adverb:
Refers to manner, describing the volume of the clapping.
Refers to time, describing the visiting took place yesterday.
Refers to place, specifying where the search occurred.
Refers to the degree, describing the extent of managing to make it.
Linking verbs
Linking verbs refer to verbs that function as connections between the subject and the subject complement in a sentence. In other words, they link the subject to additional information to create a clearer image. The most commonly used linking verbs are "to be", "to feel", "to seem", "to become", and "to appear".
Combining linking verbs and adverbs is often problematic in English grammar, as they have the foundational function of modifying action verbs rather than linking them. In this constellation, they typically modify different parts of the sentence rather than the linking verb itself. Linking verbs are typically modified by adjectives, as shown in the examples below:
In rare cases, adverbs of time or probability can modify linking verbs.
Moreover, some verbs can function as action and linking verbs. Then, the focus should lie on the context.
Modifying adjectives
In the realm of the English language, adverbs and adjectives both pose modifiers, however, they differ in modifying different parts of speech and take on different functions within sentences. Adjectives modify pronouns and nouns by adding descriptions to their characteristics or qualities. Adverbial adjectives are mainly used to enhance or minimize the degree of something that is described.
Additionally, adverbs of probability are often used to modify adjectives.
Adjectives are seldom modified in the context of frequency.
Modifying other adverbs
Adverbs of degree are often used to modify other adverbs with the purpose of specifying or intensifying the extent to which an action is executed.
Adverbs of probability are also often used for nuance and emphasis.
Furthermore, adverbs of frequency provide more specific information about the action being performed.
Adverbial phrases
Adverbial phrases consist of several words, but have the same function as adverbs. They also modify other parts of speech or even whole sentences and clauses by answering questions such as "how", "when", "where", "why", and "to what extent".
Examples
For a better vision and understanding, take a look at the following examples of adverbial phrases. When adverbial phrases serve to modify verbs, they commonly answer the questions of manner, time, frequency, place, and degree or intensity.
Adverbial phrases can also be used to modify adjectives to intensify a described characteristic. However, differently from modifying verbs, an adverb must be included in the adverbial phrase to modify an adjective.
When an adverbial phrase modifies another adverb, it provides more emphasis or detail, whereby the meaning of the initial word is amplified.
Adverbial phrases can also modify entire clauses or sentences for more detailed context, more specified tone, and emphasis.
Adverbial clauses
Adverbial clauses, or adverb clauses, consist of a group of words and also function as modifiers for other parts of speech. The clause content always consists of a subject and a verb. In terms of their purpose, they also add information about manner, time, place, frequency, degree, etc., but have the distinct characteristic of frequently starting with a subordinate conjunction.
Note: Adverb clauses starting with a subordinate conjunction are not always subordinate clauses!
Conjunctive adverbs
Conjunctive adverbs, also known as connective or coordinating adverbs, refer to phrases or words that operate as adverbial conjunctions connecting two independent clauses. Their purpose is to indicate the relationship between the clauses like cause-and-effect, contrast, sequence, etc. Common adverbial conjunction examples are:
Relative adverbs
Relative adverbs typically introduce relative clauses in a sentence. Relative clauses are dependent clauses and usually contain additional details about a preceding noun. Similarly to adjectives, they describe nouns and add extra information to a sentence.
Examples
Here are more examples of the most common ones.
Interrogative adverbs
Typically, interrogative adverbs introduce and determine the focus of a question. They are usually followed by an auxiliary verb and a subject and focus on aspects such as manner, time, place, reason, and the extent of something happening.
Sentence adverbs
Adverbs that modify a whole sentence rather than phrases, clauses, or words, are called sentence adverbs (also sentence adverbials). They typically depict the tone of the intention of the narrator/speaker in a sentence, as well as, specify the meaning of the context.
While they are often placed at the start of a sentence, they can also be placed amidst or at the end.
Sentence adverbs modify entire sentences, whereas regular adverbs used in sentences generally modify other parts of speech.
Degrees of comparison
Similarly to adjectives, adverbs can also be presented in degrees of comparison. As they are used to modifying other parts of speech, the degrees of comparison also determine the level of manner, intensity, or quality of the occurring actions. There are three degrees of comparison:
Degrees of comparison
Definition
Positive degree

Foundational form
Describes a single action
No comparison

Comparative degree

Second-degree form
Compares two actions

Superlative degree

Third-degree form
Compares three or more actions
Identifies the highest level of intensity
The base form describing only one action is the positive degree. In other words, a positive adverb does not compare, but describes. Below you can find examples of positive adverbs.
The second level is the comparative degree, which compares the extent of two actions. Adverbs that end in "-ly" preceded by the word "more" shape the comparative degree.
The third level is the superlative degree, which compares the extent of three or more actions and evaluates the highest level of intensity. Here, they are preceded by the word "most."
Flat adverbs
Adverbs that don't end in "-ly", but have the same form as their adjective counterparts, are referred to as flat adverbs. They also take on different forms in the comparative degree and the superlative degree, as shown in the examples below.
Note: There are also irregular forms of comparative degrees and superlative degrees such as "badly", "worse", "worst" and "well", "better", and "best."
The following list outlines the most common irregular forms.
Positions of adverbs
The positions of adverbs are crucial to avoid confusing the reader/listener and to clarify and specify the context. Generally, they should be placed closely to the word, phrase, clause, or sentence, they intend to modify to convey the correct meaning. Placing them in different positions in the same sentence can convey two entirely different meanings.
Example 1 modifies the verb "lost," conveying the message that she was close to losing the cash but managed not to. On the contrary, example 2 modifies the adjective "all," conveying the message that most of the cash was, in fact, lost.
Another crucial factor to consider is what part of speech the adverb is meant to modify.
Position with verbs
When a one-word verb is modified, it generally follows the verb.
Position with adjectives or other adverbs
The adverb position with adjectives or adverbs is usually right before the modified word.
Position in sentences
In sentences, they can be placed at the beginning, in the middle, or at the end. Placing them in the initial position sets or emphasizes the tone.
The placement between the subject and the verb or the auxiliary verb is referred to as the mid position of a sentence. Adverbs are often placed there to indicate probability, extent, or frequency.
When the focus lies on manner, place, and time, they are usually placed at the end position.
Special placements
Adverbs of frequency can be placed in the mid, initial, and end positions for emphasis.
Flat adverbs are commonly placed at the end position, as well as, the initial position.
Negative adverbs commonly stand in the initial position, proceeded by an auxiliary verb.
As mentioned before, sentence adverbs modify entire sentences and are, therefore, mainly positioned at the beginning of them.
When to avoid them
Using adverbs properly can improve your writing style and speech, however, using the wrong adverb can raise many downsides. Below are some of the most common instances when using them should be decreased or completely avoided.
Superfluous adverbs
When you find yourself using superfluous adverbs that don't provide important meaning or seem redundant, you should consider minimizing or completely avoiding them.
This seems redundant, as screaming already refers to a loud action. When you try to intensify a weak verb, try to use a stronger verb that conveys your intended message better.
Clarity
It is important to maintain clarity and precision when using adverbs to avoid confusing the readers/listeners and convey the correct meaning. When this is done incorrectly, the meaning can become ambiguous.
This is unclear, as it can indicate that she started driving but turned back, or it can indicate that she considered driving but never did.
In addition, overusing intensifiers such as "really," "quite," and "very" can weaken the impact of your message and become confusing.
Style and tone
In academic writing, formal writing is the norm to go for. Formal writing is characterized as direct and concise; thus, it is imperative to avoid overusing adverbs, as your writing may appear subjective or too casual. On the contrary, in creative writing, the majority aims to "visualize" an action rather than "tell" it.
Practice sheet
To see how well you understand adverbs, try if you can detect the adverbs in the following sentences and what they modify. Once you're done, check if your answers are correct in the second tab. The words marked in green will show the adverb of the sentence and in brackets you will find what it modifies.
She usually goes for a walk after dinner.
The tiger sat almost completely still.
She dances most beautifully of all.
The event ended quite abruptly.
They always bring snacks to parties.
She coughed quite noisily.
He rarely cooks at home.
It's important, especially for you.
She spoke so softly, I could barely hear her.
The view looks more stunningly in the fall.
The wolf howls loudly at full moon.
We often visit in the summer.
I nearly forgot my wallet at home.
They completed the task incredibly quickly.
Surprisingly, the outcome as good.
She usually goes for a walk after dinner. (verb: "goes")
The tiger sat almost completely

still.

(adverb: "completely")
She dances most beautifully of all. (adverb: "beautifully")
The event ended quite abruptly. (adverb: "abruptly")
They always bring snacks to parties. (verb: "bring")
She coughed quite noisily. (adverb: "noisily")
He rarely cooks at home. (verb: "cooks")
It's important, especially for you. (prepositional phrase: "for you")
She spoke so softly, I could barely hear her. (adverb: "softly")
The view looks more stunningly in the fall. (adverb: "stunningly")
The wolf howls loudly at full moon. (verb: "howls")
We often visit in the summer. (verb: "visit")
I nearly forgot my wallet at home. (verb: "forgot")
They completed the task incredibly quickly. (adverb: "quickly")
Surprisingly, the outcome as good. (sentence: "the outcome was good")