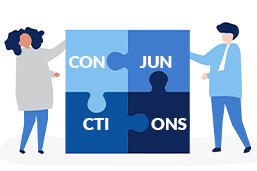 Formulating coherent sentences for your essays or other forms of writing is crucial, enabling your audience to understand your message with ease. Effective sentences follow a multitude of language rules and are composed of various components, one vital element being conjunctions.
This article will delve into the subject of conjunctions, addressing popular questions around these linguistic tools, identifying their primary types, and elucidating their usage in alignment with language rules.
Definition: Conjunctions
Conjunctions are joining words that connect phrases, other words, and clauses to make complete sentences.
The English language has numerous joining words, but the most common ones include: when, and, because, or, if, and for.
Types of conjunctions
There are three major types of conjunctions, as explained below: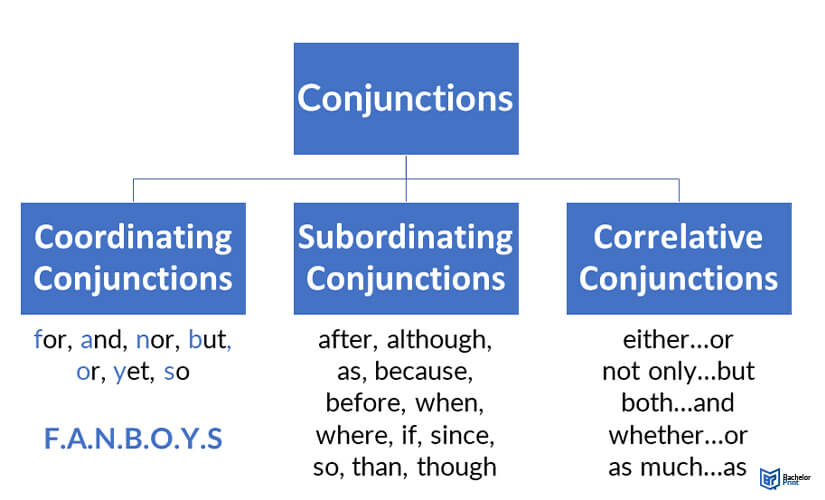 Correlative conjunctions
Correlative conjunctions are coupled—meaning they work in pairs to connect grammatically equal elements of a sentence.
Some common correlative pairs include both & and, either & or, not only & but also, and neither & nor. You don't have to place a comma when using correlative conjunctions.
Use a parallel structure for both sentence elements when using correlative conjunctions. This means the two components should have a similar grammatical form.
Coordinating conjunctions
There are only seven of these words in English, and they join grammatically equal items like two phrases, words, or independent clauses. These joining words appear between the items they're linking.
As a student, you could use the mnemonic FANBOYS to memorize them: for, and, nor, but, or, yet, so.
Coordinating conjunctions connect two verbs, adjectives, phrases, nouns, or any other type of word.
Note: You should not use a comma when joining two verbs, adjectives, nouns, or different word types.
A clause has, in the least, a subject and a verb. An independent clause is a clause that stands on its own and still creates a complete thought.
When a coordinating conjunction joins two independent clauses, place a comma before it.
Also, notice that these two sentences can still make sense alone. That is:
Subordinating conjunctions
These words are mainly used to introduce dependent clauses when using words like: until, because, although, if, while, and since.
Dependent or subordinate clauses are words that contain a subject and a verb, but can't make a complete sentence on their own.
For this reason, dependent clauses must have an independent clause to make sense.
| | |
| --- | --- |
| Sentence type | Example |
| Dependent clause | Because I had work to do the next morning. |
| Independent clause | I had to sleep early. |
| Complete sentence | I had to sleep early because I had work to do the next morning. |
Tips for the final format revision of your thesis
Adjusting the format according to your university's requirements is typically the final step. After several times of proofreading, many become blinkered to their own work and miss formatting mistakes. A 3D Look inside function representing the real-life version that can be edited virtually creates a fresh eye for formatting mistakes and helps you to detect them again.
You may have noticed that you don't place a comma when the subordinating conjunction follows after an independent clause.
However, it would help to put a comma after the dependent clause when the subordinating conjunction begins a sentence.
Subordinating conjunctions help define the type of relationships between the clauses. Here are some of these words and the relationships they help express:
| | |
| --- | --- |
| Relationship | Conjunctions |
| Cause and effect | as, since, because |
| Time | after, before, once, while, whenever, since, when |
| Place | where, wherever |
| Condition | in case, if, unless |
| Contrast | though, although, whereas |
Starting a sentence with a conjunction
Novice authors are often advised not to begin sentences using conjunctions. However, you can start a sentence using joining words to indicate contrast, create emphasis, and more.
Also, note that this usage is widely accepted in literary and popular language, but is avoided in academic writing.
Additionally, subordinating conjunction may start a sentence only if the independent clause follows the dependent clause.
A dependent clause is a sentence fragment; you should avoid it in academic writing.