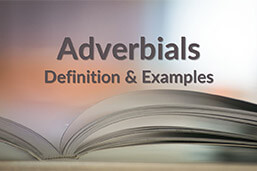 An adverbial is a term used in both general and academic writing to describe a word that can modify an adjective, verb, or entire sentence. It may take the form of an individual word, clause, or phrase, and can be positioned in various places within a sentence. Similar to adverbs, adverbials are utilized to explain the place, manner, and time. Explore the application of adverbials in sentences and clauses to enhance understanding and expression, particularly in academic writing contexts.
Definition: Adverbials
An adverbial works as an adverb by modifying verbs, adjectives and other adverbs. Typically, they can be prepositional phrases or infinitive phrases with intensifiers. Adverbials explain the how, why, where and when something happens and can also show the degree and frequency. Using adverbials in sentences makes it interesting for the reader.
In the first sentence, "tomorrow" is an adverbial that informs the reader when the subject is running the marathon.
In the second sentence, "during the week" is the adverbial phrase.
In the third sentence, "as she decorated the tree" is an adverbial clause.
Adverbials as phrases
Adverbial phrases are groups of words that modify a sentence's adjectives, verbs or clauses. Unlike clauses, adverbial phrases don't contain a subject and a verb. That means the phrases can be made of two adverbs explaining the manner or time when something took place. For example, adding an intensifier or qualifier to a sentence forms a phrase with two adverbs.
Other types of adverbial phrases
Prepositional phrase: It starts with a preposition and doesn't necessarily include an adverb but still modifies the subject.
Infinitive phrase: An adverbial phrase can be headed by an infinitive verb like to play, to join.
Adverbials with intensifiers: Adverbial phrases can also come with intensifiers like very, quickly or extremely.
The functions of adverbials and examples:
| | | |
| --- | --- | --- |
| Type | Function | Example |
| Manner | The manner explains how something is done. | He would always talk in a whisper. |
| Time | It explains when and how often something happens. | After the game, the team will review their performance. |
| Purpose | States the reason or why something is done. | He visited the Island to find gold. |
| Place | It indicates where something happens | The thief stabbed Jason in the back. |
Adverbials as clauses
You can use an adverbial clause when your sentence requires an additional description for clarification. It is a dependent clause that modifies an adjective, verb or adverb in a sentence.
Since it is a dependent clause, it cannot stand alone, but it enriches your sentence by adding context and description that standard adverbs can't add. You can add adverbial clauses to any part of a sentence, which can be figurative or literal.
Adverbial clauses are available in different forms and types.
| | | |
| --- | --- | --- |
| Type | Function | Example |
| Manner | Describes how an action is taking place or took place. | Mary gave her speech as she had practiced in the mirror. |
| Place | Describe where the action in the main clause took place. | Rose explained that the fight broke out at the dance theatre. |
| Reason | It states the reason for something to happen. | Jason is amazing at billiards since he worked in a pool hall. |
| Time | It indicates when and the frequency of an action taking place. | The girls assembled and prepared for the march as the band played. |
| Purpose | Communicates the reason for taking a specific action. | The students read all night to pass the test. |
| Comparison | Explains how the subjects of the main and dependent clauses compare. | Felix is as good at weightlifting as he is good in swimming. |
| Concession | Shows acknowledgement or agreement with the main sentence while introducing a contrast. | Although 20 people applied for the job, they hired the first interviewee. |
Where to place adverbials
Adverbials can be placed anywhere in a sentence. For instance, they can come before or after a verb, and you can have multiple adverbials in a sentence. You can determine the placement of adverbial clauses or phrases based on where you want to place emphasis.
Fronted adverbials usually come at the beginning of a sentence, followed by a comma. You can also use adverbials at the end of the sentence without a comma.
If placing an adverbial clause in the middle, use commas to separate the clause.
When placing an adverbial phrase or clause in a sentence, ensure the punctuation is correct to avoid a change in meaning. For instance, a misplaced modifier can misrepresent a sentence.
FAQs
Adverbials can modify time, place, manner and purpose. Hence, the adverbial you use depends on what you try to modify.
Both adverbial phrases and clauses are a group of words used to modify sentences, but clauses have a subject and verb while a phrase does not.
Adverbials are connected to the main sentence using a subordinating conjunction like before, since, because and although.