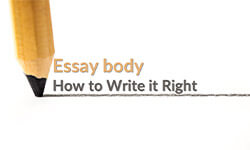 Are you unsure how to write a good essay body? If so, you have come to the right place. Writing an effective college essay includes understanding how to craft body paragraphs that provide proof and evaluation in support of your thesis statement. This article will discuss what an essay body entails and how to create a perfect one.
Definition: Informal writing
Informal writing is a relaxed and conversational writing style. It features a casual tone. It is not bound to any rules and conversions as compared to formal writing. It typically consists of short sentences and is commonly applied in contexts like writing to a friend, sharing stories, creative writing, and in everyday conversations.
This writing style helps you convey ideas and feelings in relatable and direct ways. Therefore, it is a powerful academic writing tool for engaging readers.
Essay Body: Structure
Each paragraph in the body should naturally lead into the next, creating an easy-to-follow structure. So, it's important to consider the following;
Number of Paragraphs
First, an essay body often consists of numerous paragraphs, each of which develops a distinct point of view on the issue at hand. Paragraphs should include an introductory subject sentence that states the major idea, followed by many phrases that elaborate on that point using evidence or examples.
Transitional Sentences
Also, Paragraphs must have transitional phrases between them to help the reader understand the essay's organization and flow.
Essay Body: Differences
Despite the diversity of essays, most may be grouped into one of four broad groups.
Essay body type
Skills tested
Argumentative essay
Using evidence to form a judgement.
Establishing a case with supporting evidence.
Descriptive essay
Artful expression.
Using sensory language to describe.
Expository essay
Familiarity with a subject.
Providing precise communication.
Narrative essay
Great wordplay.
Creating a story that is hard to resist.
Essay Body: How to start writing
Before you begin writing an essay, create a basic framework outlining the primary arguments and the sequence in which you want to present them. As a result, this will assist you keep in mind the connections that each section of your essay body should have with one another.
However, remember that the layout isn't fixed in stone, so feel free to rearrange things as needed. Preparation for writing an essay includes planning its structure, which continues throughout the writing process and even after the initial outline is complete.
If you have an idea for another part of the essay while you are working on a specific part, write it down in your outline. Similarly, you can make a note of how you plan to organize the academic essay.
First draft
By the end of the first draft, you should be able to refine your initial thoughts into logical arguments. Also, flesh out those claims and visualize the outcome. Here are tips you should consider;
Approach each concept separately: There should be one main point in every paragraph, supported by relevant examples and arguments.
Never take anything out: If you start to despise a certain piece or perhaps the whole essay, don't just throw it out! You may copy and paste it into a new document, but retain what you have even if you don't intend to use it.
Eliminate perfectionism: Avoid letting little things hold you down while you are composing a first draft. Write down your thoughts right away, then refine them. Also, mark any words, sentences, or arguments that you're not happy with in the draft so you can go back and fix them later.
Second draft
When working on a second draft, it's important to evaluate your progress so far and make any necessary changes. So, there will be some rewriting and some new material added to the essay. Always consider the following tips;
Compare your thoughts to your thesis statement: Your essay should be the basis for all your writing. If the body of your essay disagrees with the point you set out to make in your introduction, you may need to revise your thesis statement.
Verify the structure: When you have finished writing the essay's major points and are satisfied with them, you should review the essay's structure. It's important to follow a logical progression and avoid excessive reiteration.
Essay Body: What's important?
There are four crucial factors to consider while writing the essay's body: cohesion, clarity, relevancy, and supporting evidence.
Cohesion: Paragraphs should build on one another and not stray too far from the main point.
Clarity: By clarity, we imply that the concepts in the essay are straightforward and simple to follow.
Relevancy: To be relevant, the evidence must be relevant to the discussion and lend credibility to the claims being made.
Evidence: Finally, your argument needs proof, which might take the form of facts, figures or instances.
Essay Body: Checklist
Making use of an essay checklist can help you make sure all the bases are covered while writing an essay body. First, think about what you need to do to complete the assignment. Next, you should draft an outline and your paper's thesis. The best essays have an engaging opening, coherent and convincing body paragraphs that brings everything together.
Lastly, check for typos, grammatical problems and sentence structure before submitting. Get more a detailed essay checklist here.