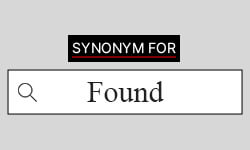 The word "found" means that something is brought into existence. Another word for "found" is established. However, more synonyms of the word "found" will be listed in this article.
Find suitable synonyms for your academic writing
On our overview page for synonyms, you can find the best options of synonyms for a vast variety of words that are used in academic writing.
"Found" – General synonyms
The following illustrates other words for "found" that may be used in everyday conversation as well as in academic writing. Synonyms of the word "found" are:
Base
Conceive
Constitute
Create
Establish
Form
Fund
Inaugurate
Initiate
Innovate
Introduce
Launch
Organize
Originate
Plant
Produce
Settle
Start
To bring into being
"Found" – Synonyms used in academic writing
In an academic context, the word "found" means the establishment of something. Synonyms for "found" used in academic writing will be shown below.
Are you looking for suitable synonyms for "found" for your academic paper? Have a look at the table below with the top suggestions from our BachelorPrint-Team.
| | |
| --- | --- |
| "Found" Synonyms | Examples |
| Base | The case was found on insufficient evidence. |
| | The case was based on insufficient evidence. |
| Establish | The university was founded in 1993. |
| | The university was established in 1993. |
| Introduce | The American dream was founded by the Founding Fathers. |
| | The American dream was introduced by the Founding Fathers. |