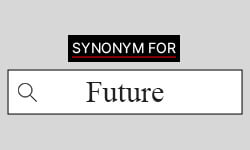 The word "future" can be a noun and an adjective. It is used to describe something that is about to take place. Another word for "future" is upcoming. More synonyms of the word "future" will be listed in this article.
Find suitable synonyms for your academic writing
On our overview page for synonyms, you can find the best options of synonyms for a vast variety of words that are used in academic writing.
"Future" – General synonyms
The following illustrates other words for "future" that may be used in everyday conversation as well as in academic writing. Synonyms of the word "future" are:
Anticipated
Approaching
Coming
Following
Foreseen
Forthcoming
Imminent
Impending
Looked toward
Next
Planned
Predicted
Prospective
Scheduled
Subsequent
Unfolding
Upcoming
"Future" – Synonyms used in academic writing
In an academic context, the word "future" means that something is yet to happen at an upcoming point or period in time. Synonyms for "future" used in academic writing will be shown below.
Are you looking for suitable synonyms for "future" for your academic paper? Have a look at the table below with the top suggestions from our BachelorPrint-Team.
| | |
| --- | --- |
| "Future" Synonyms | Examples |
| Foreseen | Public riots are future events of this decision. |
| | Public riots are foreseen events of this decision. |
| Impending | The future election will show the desire of the majority. |
| | The impending election will show the desire of the majority. |
| Upcoming | Future events will expose the true colors of the government. |
| | Upcoming events will expose the true colors of the government. |