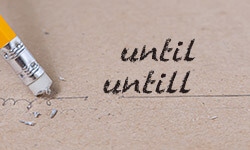 They may seem like small slip-ups, but they hold the power to shape our written communication: Spelling mistakes. Especially the word "until" trips up even the most experienced writers. The spelling mistake "untill" is a common error that arises from confusion between "until" and "till". This article will shed light on everything you need to know until there won't be any further questions.
The correct spelling of "until"
There is only one correct spelling for the word "until", which functions as both a preposition and a conjunction.
Incorrect spelling
untill
The correct spelling of "until" is with only one "l". The double "l" in "untill" is the most common misspelling and is always incorrect and unnecessary. The confusion arises from the word "till", which is mainly used in everyday speech rather than formal writing.
Mnemonic for spelling "until"
The correct spelling of specific words can be hard to remember, especially when there's no specific rule. English contains several words with double "l" endings, such as "till" and "ill". This shared spelling pattern might lead to the assumption that "until" adheres to the same rule. However, "until" stands out as an exception to this pattern and is spelled with only one "l".
Note: Use Noodles To Improve Lunch
FAQs
The most common spelling mistake of the word "until" is "untill" with an additional "l", which is incorrect.
The only correct spelling of "until" is "U-N-T-I-L" with only one "l".
It means "up to" (the time or the event mentioned).