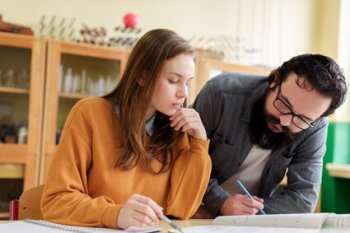 Research Paper Outline: Definition
A research paper outline is a simple structure of what you will include in each part of your research paper. The research paper structure should help to reduce the stress of writing the entire paper since you will only be tackling one section at a time. A good research paper structure should also help you avoid leaving out points or making mistakes in the paper.
Research paper outlines can make your work a lot easier since they show you what to include in every part of the research paper. After reading this guide, you will be able to create a research paper outline. We have included a sample of a research paper structure.
 Structure
A research paper outline should have the following parts:
Example
To make your work easier, you can use this format and add the details of your own research paper structure. Note that this format may need to be changed depending on the type of research and the writing style requested. The following is an example of a research paper outline: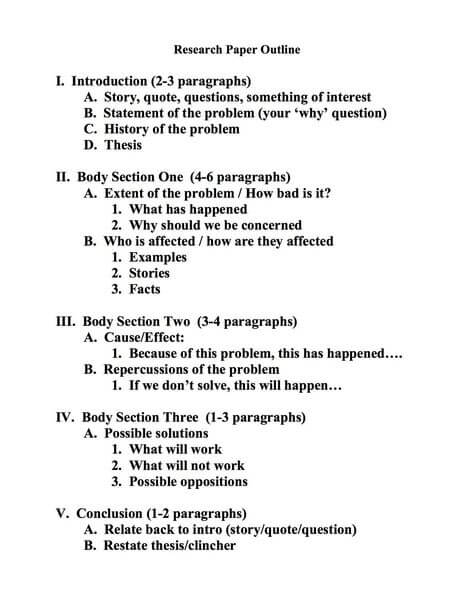 APA Outline
When writing the research paper with the APA format, you should consider the particularities of this style. First, remember that the papers include separate cover pages, and the cover page includes the title, author's name, school name, and running head. The header on every next page has a number and title. With this format, the abstract has to be followed by keywords. The list of cited sources is titled as 'References'. You should note these items in the research paper outline to make sure you don't get anything wrong.
MLA Outline
As you complete your research paper outline for an MLA paper, you should remember that the citation styles differ based on the type of source. For example, a book will be cited differently from a video or magazine article. With MLA format, you will also not need to worry about title pages, unless your instructors indicate that they need a title page. In the research paper outline, the titles and emphasis points should all be written in italics. Before writing your cited works, you should consider making a list of the endnotes. The subheadings should be marked with Arabic numbers.
In a Nutshell
Research paper outlines can make your work easier and will ensure that you don't miss anything out of your paper.
Research paper outlines differ based on the formating style used. APA research paper outlines will be slightly different from the MLA research paper outlines.
A research paper outline should have an introduction, body, and conclusion.
You should make brief notes on your main points and arguments in the research paper structure and refer to them when writing the paper itself.
Discover more useful articles: