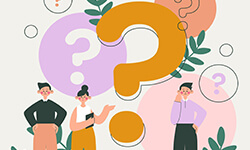 The use of question marks can greatly enhance the clarity of your communication, as they signify the need for a response. We'll delve into the different types of questions that require these punctuation marks. With this guide, we aim to demystify question marks and improve your proficiency in written expression. By mastering these language rules, you'll be able to correctly implement question marks in various contexts, ensuring your questions are understood and effectively elicit the desired responses.
Definition: Question marks
A question mark can be defined as a punctuation symbol that is placed at the end of a sentence or phrase to indicate that the statement is an inquiry. This symbol is also referred to as the interrogation point or note of interrogation. It resembles a hooked line and has a dot at the bottom.
Question marks and quotation marks
When writing a direct question, the question mark will always be placed at the very end of the sentence. But what happens when you have to use quotation marks in the sentence? In such cases, you have to determine whether the question mark logically applies to the statement that is enclosed within the quotation marks.
If the question mark applies to the sentence as a whole instead of the phrase within the quotation marks, you will have to use the question mark outside the quotes.
In case the question mark applies to both the quoted section and the sentence as a whole, you can use it within the quotes.
Question marks and parentheses
The rules here are similar to those of quotation marks. If the question mark only applies to the phrase within the parentheses, you should use it within the brackets. On the other hand, if the question mark applies to the entire sentence, you have to use it at the very end of the sentence.
Question marks and indirect questions
Indirect questions never use question marks as they are declarative; they don't require an answer. When said out loud, indirect questions will simply read like any other statement and won't have a change of tone.
Indirect questions vs. questions embedded in statements
Indirect questions are simply questions that are reported to other people rather than the exact wording of the original question.
Indirect questions are different from questions that are embedded in statements and these two have to be punctuated differently.
Multiple questions marks and exclamation points
In informal or casual writing, people often use multiple question marks and exclamation points to create emphasis. This style of writing is usually used when the statement is absurd, surprising, or exciting.
In formal writing, you will simply need to use one question mark. It might help to add emphasis if you add extra information.
Questions and question marks to avoid in academic writing
The following uses of questions marks should be avoided in academic writing.
| | |
| --- | --- |
| Rhetorical question | These questions are usually informal and shouldn't be included in academic papers. |
| Requests | You should also avoid making requests in your academic paper. |
| Statements that turn into questions | These are also considered informal and should only be used in casual writing. |
| Multiple question marks | While these can add emphasis to a question, they aren't accepted in academic papers. |