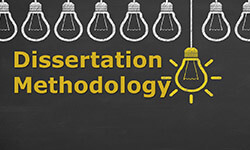 The dissertation methodology is an essential part of your research paper. It shows the reader whether your study is reliable and credible. The methodology outlines the specific research methods and tools you employed, allowing others to replicate or challenge your findings. A well-constructed dissertation methodology not only enhances the integrity of your research but also paves the way for future scholars in your field. This guide will show you how to write the dissertation methodology.
Definition: Dissertation methodology
The dissertation methodology explains how you carried out the research, as well as the source of your data. It also shows the methods you used to gather and analyze data. A well-written dissertation methodology section should allow the reader to create methods that are very similar to the ones used in your research.
Why is a methods section important?
This chapter is meant to convince the author that the research is authentic. It shows readers that the research was thoroughly done. Since it completely indicates how the research was done, other researchers can replicate it and confirm your results. In case your readers have any critiques and questions, they can always refer to the dissertation methodology section of your paper. Overall, this part of your paper will help readers evaluate the validity and reliability of the study.
How to write a dissertation methodology
Tips for writing a strong dissertation methodology
Reference existing research in your field
The dissertation methodology should contain information that would be obvious to your audience
Keep the research questions in mind and make sure everything in the dissertation methodology leads back to these questions