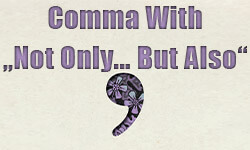 Academic writing can be challenging, and students may struggle with proper comma usage. The rules and exceptions surrounding the use of commas can be confusing, particularly when it comes to phrases like "not only" and "but also". This article aims to provide clarity and guidance by exploring these rules and exceptions through various examples to elucidate and simplify the principles for effective comma placement.
When to place a comma with "not only… but also"
The phrase "not only… but also" is a correlative conjunction. A correlative conjunction is a pair of conjunctions used to link equivalent sentence elements. It connects two elements that should be balanced and parallel in structure, typically emphasizing that both elements are important or significant. You generally do not put a comma with "not only… but also". The only exception is if you connect independent clauses, so sentences that can stand on their own.
No comma
Connecting items
Comma rules may vary depending on style guides, and complex sentences may have exceptions for placement. Consider the readability of your text without commas.
Comma with "not only… but also"
Placing a comma with the correlative conjunction "not only… but also" is nearly never the case. However, there is one exception: connecting independent clauses. Below, we will explain this case further and provide examples to showcase this comma rule.
Connecting clauses
You place a comma between "not only" and "but also" when they connect independent clauses to indicate a pause in the sentence and to clarify the separation of the two distinct thoughts or statements. This comma is a part of standard punctuation rules for connecting independent clauses with coordinating conjunctions or correlative conjunctions.
The comma helps readers understand the structure of the sentence and distinguishes between the two complete ideas being presented. It makes the sentence easier to read and ensures that the relationship between the clauses is clear. Without the comma, the sentence might become less coherent, and the reader may need to pause and re-read it to understand the intended meaning.
No comma with "not only… but also"
A comma with "not only… but also" should not be used. In general, using a comma to separate pairs of conjunctions in a correlative conjunction is something that is done only rarely, as seen above. When simply connecting items, like in a list, you do not need a comma with "not only… but also". However, we will delve into the why and how below.
Connecting items
You do not have to put a comma with "not only… but also" when connecting items like in a list because, in this context, "not only" and "but also" serve as correlative conjunctions rather than joining independent clauses. Correlative conjunctions work as pairs to connect equivalent sentence elements, but they do not require a comma between them.
When used to link items in a list, "not only" and "but also" work together as a pair to emphasize the parallelism or similarity between the items, not to separate independent clauses. The absence of a comma helps maintain the flow of the sentence and the relationship between the items in the list.
Practice sheet
Check your understanding by correctly using commas with "not only… but also" in the 10 sentences below. Check the correct answers in the second tab.
She is not only an excellent singer but also a talented actress.
Not only did he win the gold medal but also set a new world record.
The store offers not only clothing but also accessories and footwear.
Not only did they finish the project ahead of schedule but also exceeded the expectations.
The school provides not only education but also extracurricular activities.
They not only visited the Louvre Museum but also explored the Palace of Versailles.
The movie not only had a compelling plot but also featured outstanding performances.
The vacation destination offers not only beautiful beaches but also a vibrant nightlife.
Not only is she a skilled chef but also an accomplished author.
They do not only just need food but they also need a place to sleep.
She is not only an excellent singer but also a talented actress. (No comma)
Not only did he win the gold medal, but also set a new world record. (Comma)
The store offers not only clothing but also accessories and footwear. (No comma)
Not only did they finish the project ahead of schedule, but also exceeded the expectations. (Comma)
The school provides not only education but also extracurricular activities. (No comma)
They not only visited the Louvre Museum but also explored the Palace of Versailles. (No comma)
The movie not only had a compelling plot but also featured outstanding performances. (No comma)
The vacation destination offers not only beautiful beaches but also a vibrant nightlife. (No comma)
Not only is she a skilled chef, but also an accomplished author. (No comma)
They do not only need food, but they also need a place to sleep. (Comma)