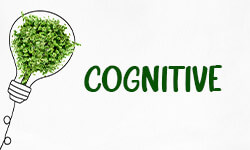 Many people often search for the definitions of different words and phrases in English. However, some individuals use certain words just because they are trendy, without knowing their actual origins. In this article, we will dive deeper, offering not only the correct spelling of the word "cognitive," but also exploring its etymology and historical background to enhance your understanding.
Definition of "cognitive"
"Cognitive" is an adjective used to describe anything related to or involving cognitive processes, which are the mental processes related to knowledge, understanding, and thinking. It concerns the functioning of the mind, including perception, memory, problem-solving, and decision-making. In the context of psychology and neuroscience, the term "cognitive" often refers to processes associated with mental functions, such as learning, reasoning, and memory. It is derived from the Latin word "cognitivus".
Use of "cognitive" in a sentence
"Cognitive" operates grammatically as an adjective in English. It is used to describe or modify nouns by indicating that something is related to mental processes, thinking, or knowledge. Here are example sentences illustrating how "cognitive" functions in a sentence.
How to spell "cognitive" correctly
The word "cognitive" has been misspelled plenty of times as "cognative", "cogntive", or "cogitive". These may occur due to a common phonetic error. The "gn" sound in "cognitive" can be challenging for some individuals to spell correctly, leading to the substitution of "gn" with "g". Additionally, words ending in "-tive" are relatively uncommon in English, which might lead to confusion when attempting to spell "cognitive". However, the only correct way of spelling the Latin word is "cognitive" and consists of two parts:
"Cognit-" – meaning "known"
"Cognoscere" – a verb meaning "to know" or "to understand"
Correct spelling
cognitive
Wrong spelling
cognative
cogntive
cogitive
Synonyms for "cognitive"
In communication, using words that have similar meanings to "cognitive" can be helpful. Synonyms can improve your writing or conversation by avoiding repetition and adding variety and nuance to your language. Here are four synonyms for "cognitive" along with examples to help you understand how to use them.
| | |
| --- | --- |
| Synonyms | Examples |
| Cerebral | Cognitive functions like reasoning and decision-making are integral. |
| | Cerebral functions like reasoning and decision-making are integral. |
| Intellectual | Her cognitive development included practising cross word puzzles. |
| | Her intellectual development included practising cross word puzzles. |
| Mental | Cognitive processes, such as memory and problem-solving, are studied in psychology. |
| | Mental processes, such as memory and problem-solving, are studied in psychology. |
| Psychological | Cognitive studies focus on various functions of the brain. |
| | Psychological studies focus on various functions of the brain. |