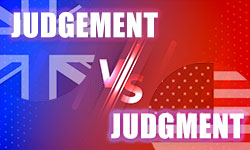 When writing an academic paper, consistency is key. Whether you're writing a research paper, dissertation, or academic essay, maintaining clarity and coherence in the spelling throughout the paper is essential. However, a common problem for students is the difference between British English vs. American English, for example when contemplating whether "judgement" or "judgment" is the correct way of spelling. Learn how to distinguish between these two styles in this article.
"Judgement" or "judgment"
The word "judgement/judgment" is a noun in the English language. It refers to the act or process of forming an opinion, making a decision, or drawing a conclusion based on the available information or evidence.

British English
judgement

American English
judgment
As you can see, British and American English have each only one correct way of spelling it. Both spellings are acceptable and commonly used in their respective countries. In recent years, some style guides have recommended using "judgement" for BE and "judgment" for AE to maintain consistency with other similar words like "acknowledgement" (BE) and "acknowledgment" (AE).
Examples of using "judgement" and "judgment"
The following examples will illustrate the difference in spelling of the word "judgement/judgment" in British and American English.