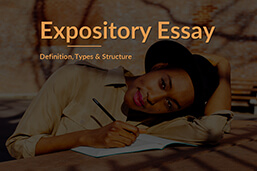 An expository essay is a type of writing where the author presents facts and evaluates a concept about a place, an object, a person, or an experience. The writer is expected to present information regarding the concept unbiased and accurately while ensuring it is written in the third person and delivered in chronological sequence. Writing an expository essay is a common task for high school and college students, and knowing what it entails sets a successful and an unsuccessful student apart.
Definition: Expository essay
A style of academic writing known as an expository essay tries to clarify, observe, and describe a thought, problem, or notion. It entails looking into a theory, assessing the supporting data, outlining the theory, and then developing an argument based on the research.
Expository essays follow a format similar to other types of academic essays, such as persuasive essays or argumentative essays. The primary distinction is that the expository essay necessitates more investigation and factual information to substantiate the claim. Common examples of expository essays include a process, or how-to essay that provides instructions on how to accomplish a task, assembly instructions, and newspaper articles.
The purpose of an expository essay
An expository essay is written when the researcher intents to provide a solution or an explanation about a specific topic or issue. The primary purpose of such an essay is to explain or analyze a complex topic and is often used to explore complex or controversial issues. Mostly, these essays investigate an idea or subject, evaluate the evidence available, develop the idea, and provide an argument regarding that idea clearly and concisely.
Types of expository essays
There are four main types of expository essays:
Descriptive essay
A descriptive essay gives details on a particular person, place, thing, or experience. The author describes the topic with sensory information describing an individual, place, thing, or experience while giving in-depth information about the subject. Providing an intricate description of something or an event is the primary objective of such an essay.
Process essay
A process essay describes how to carry out a task or how something is supposed to take place. The author must ensure that the steps in the process are described in chronological order. A process essay's primary goal is to give comprehensive directions on carrying out a task with minimal mistakes.
Compare and contrast essay
A compare and contrast essay explains the differences and similarities between two or more individuals, things, places, or experiences. In a comparison essay, two objects are compared, and their similarities and differences are discussed. This essay's primary goal is to make the reader understand the subjects under comparison.
Cause and effect
A cause and effect essay explains the reasons for something or the effects of something. This essay will discuss the causes of a problem or situation and its consequences. The main purpose of a cause-and-effect essay is to help the reader understand the reason behind a problem or situation.
Structuring an expository essay
The structure of this essay is similar to that of other essays, such as the five-paragraph essay.

The introduction:
Introduces the essay's core idea while providing critical background information. Start your introduction with a catchy sentence to draw the reader in, such as rhetorical questions, quotations, anecdotes, concessions, intriguing facts, or questions that will be addressed in your body section. The thesis statement for a narrative essay has a slightly different function than an expository essay because the former can introduce the plot's events.
The body:
A three-paragraph body is the standard format for such essays. The topic is introduced in the first paragraph, followed by complementary information in the second paragraph, and then the bottom-line section as the third body paragraph.
The conclusion:
An expository essay also has a conclusion, acting as the summary of the essay's main points.
How to write an expository essay
The most efficient method to begin an essay is simply, to begin writing. Get your ideas down on paper first without worrying about grammar or spelling. Check it for grammatical and spelling issues when you've finished writing your essay.
Make sure your thoughts are concise, and your essay flows naturally while editing. Read your writing aloud as a means to verify this. If you become lost or confused while reading your work, this is a good indicator that you have probably not adequately ordered your work.
FAQs
This type of essay explores a specific subject or issue in detail and is often used to analyze a complex or controversial topic.
The most common types of such essays include cause and effect essays, compare and contrast essays, process essays, and descriptive essays.
This type of essay is usually used when the aim is to analyze complex and controversial topics.