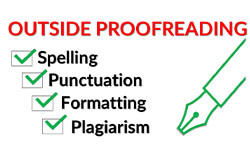 There are so many rules when it comes to academic writing that sometimes students have a hard time knowing what is accepted and what is not. For instance, many students wonder if their universities allow outside proofreading. It can be helpful to have an extra set of eyes review your research paper. This article will expound more on the issue of outside proofreading, whether universities allow it, and give tips.
Definition: Outside proofreading
This is where students get someone to go through their papers and make changes where necessary. It is usually done by professional and experienced academic writers. The writers analyze your paper and make changes where there are mistakes, like grammar and spelling issues.
What is proofreading?
What is not proofreading?
Proofreading is the process where you or someone else goes through your work to identify and rectify language errors.
The proofreader only checks for common issues like grammar, spelling, and structural errors.
When numerous people think of proofreading, they picture someone checking for errors and making changes in a paper, like re-writing sections and paragraphs. However, this is not proofreading.
Proofreading does not entail someone else writing or editing your paper.
A proofreader also does not alter the content of the paper.
It is worth mentioning that a student must write the paper to completion before getting proofreading services. So, proofreading does not entail plagiarism.
Opinions of universities on outside proofreading
Many major universities allow their students to use proofreading services. These universities do not consider proofreading to be cheating, plagiarism or against regulations. As long as your university does not have any policies against proofreading, then it is allowed.
Texas A&M University encourages students to have friends or family proofread their papers before submission. They also encourage professional outside proofreading. The university provides its students with a list of editors they can use for professional proofreading. This clearly indicates their stand on outside/professional proofreading.
UCLA, one of the biggest Universities in the US, also encourages outside proofreading. The university issues a disclaimer that its graduate writing consultants do not offer proofreading or editing services. However, it encourages students to pay someone for outside proofreading. The university even issues guidelines on how you can find professional proofreading services.
Stanford University also encourages outside/professional proofreading. The university allows its tutors to offer outside proofreading services and advertises these services to students. The Stanford HUME Writing Center advises students on outside/professional proofreading services.
Note: Some universities have conditions for allowing you to use outside/professional proofreading services.
For instance, most universities will only allow it if; the proofreader does not re-write or alter the content, your supervisor suggests or approves it, your text meets a specific word count requirement, or if the editor/proofreader also acts as an advisor.
If you are uncertain about your university's policies on proofreading services, it would be wise to inquire from your department, professor, or advisor.
Pros and cons of outside proofreading
Outside proofreading has its upsides and downsides.
Pros:
Proofreading your paper can be very helpful, since a fresh set of eyes can identify common mistakes and improve the quality of your work.
Submitting an error-free copy can help you get better grades and reduce your workload.
Hiring a professional proofreader is convenient and efficient, and ensures that your paper is checked by experts.
It can also help reduce your stress and improve your chances of academic success.
Cons:
It may cost a lot of money, especially if the paper is complex and extensive.
Finding a qualified and reliable proofreader may be challenging.