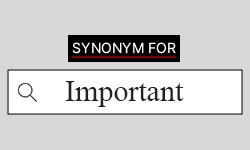 The word "important" denotes something of great significance, value, or consequence.
More synonyms will be listed in this article.
Find suitable synonyms for your academic writing
On our overview page for synonyms, you can find the best options of synonyms for a vast variety of words that are used in academic writing.
General synonyms for "Important"
The following illustrates synonyms for "important" that are used in general as another word for important.
Significant
Critical
Crucial
Essential
Influential
Relevant
Substantial
Imperative
Urgent
Serious
Primary
Meaningful
Far-reaching
Weighty
Noteworthy
Consequential
Earthshaking
Earth-shattering
Major
Material
Monumental
Weighty
Salient
Vital
Synonyms for "Important" in academic writing
In an academic context, the word "important" is used to express a relevant piece of information.
Are you looking for another word for "important" for your academic paper? Take a look at the table below with 3 top suggestions from our BachelorPrint-Team.
| | |
| --- | --- |
| "Important" Synonyms | Examples |
| Significant | The research results are important… |
| | The research results are significant… |
| Substantial | Regarding the process, it is important… |
| | Regarding the process, it is substantial… |
| Relevant | This information is important… |
| | This information is relevant… |
| Essential | To draw an accurate conclusion, it is important... |
| | To draw an accurate conclusion, it is essential... |
| Vital | The conduction of this interview is important, as it contributes objectivity to this study. |
| | The conduction of this interview is vital, as it contributes objectivity to this study. |