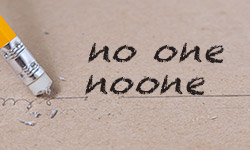 Spelling can be a challenge for students learning the English language, particularly when it comes to certain words. This can be attributed to differences in spelling compared to similar words in other languages or inconsistencies in pronunciation. One of the more common spelling mistakes is with the word "no one/noone." In this guide, we will offer a detailed explanation of how to spell this word correctly.
The correct spelling of "no one"
"No one" is an indefinite pronoun replacing the word "nobody". However, it is treated as a singular noun which is why it's always followed by a singular verb form. The word "no one" is believed to have originated in Middle English as a combination of the words "no" and "one." The use of "no one" to replace the word "nobody" has been in common use since the 19th century.
The correct spelling of "no one" is without as two separate words. The most common misspelling is "noone." This is likely due in part to the common usage of the word as a single unit of meaning, which could lead people to believe that it is spelled as a single word. The existence of other words like "anyone" and "someone," which are spelled as single words, could also be contributing to the confusion.