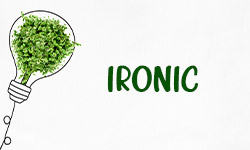 Many individuals seek out the definitions of different English words, phrases, and terms. While some are commonly used, others may not be fully aware of their origins and may use them for their aesthetic value alone. This article aims to provide a comprehensive understanding of the word "ironic," including its proper spelling and historical roots.
Definition of "ironic"
The word "ironic" means using language that conveys the opposite of its literal meaning, or a situation that is contrary to what is expected or intended. "Ironic" is derived from the Greek word "eironeia", which means "feigned ignorance" or "pretended unawareness".
Use of "ironic" in a sentence
When used in the English language, "ironic" acts as an adjective. The following examples illustrate how to use the word in a sentence.
How to spell "ironic" correctly
"Ironic" is often misspelled as "irnoic" or "iroonic"
The only correct way of spelling the word is "ironic" and consists of two parts in Greek:
"eiron" – meaning "deceiver" or "dissimulator"
"-eia" – a common Greek suffix
Wrong spelling
Irnoic
iroonic
Synonyms for "ironic"
Using synonyms for the word "ironic" can be advantageous, as it allows for a greater variation in word choice with similar meanings, thereby improving the quality of expression. Utilizing synonyms can enhance your writing by eliminating redundancy and enriching your vocabulary. Below are four examples of synonyms for "ironic" along with sample sentences for each:
| | |
| --- | --- |
| Synonyms | Examples |
| Cynical | Her response to the situation was ironic, as she once held a more optimistic view. |
| | Her response to the situation was cynical, as she once held a more optimistic view. |
| Incongruous | It was ironic that the health teacher was often seen smoking outside the school. |
| | It was incongruous that the health teacher was often seen smoking outside the school. |
| Paradoxical | It was ironic that the environmental activist drove a large SUV. |
| | It was paradoxical that the environmental activist drove a large SUV. |
| Satirical | The ironic news article poked fun at politicians for their behavior during the pandemic |
| | The satirical news article poked fun at politicians for their behavior during the pandemic. |