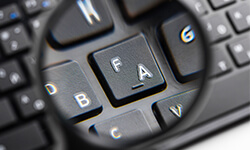 Plagiarism has become an extremely worrying issue in higher education in the majority of countries. The number of students' with apparent instances of plagiarism appears to increase exponentially. It is attributable mainly to the proliferation of the internet and digital technology, the increasing workload of professors, a total and absolute disregard for copyright, and a decline in academic culture or the fear of expulsion. 
Definition: Plagiarism checkers
Plagiarism checkers employ sophisticated database tools to search your content for matches with existing materials. Universities utilize them to evaluate student papers. You can also use professional plagiarism checkers to examine your work before submission.
Plagiarism checkers browse and index web information, comparing your writing to a database of already-existing web content to identify instances of similarity. Exact matches are highlighted using keyword analysis.
The checker displays a plagiarism percentage on the user's end, flags the plagiarism instances, and cites the sources.1
Differences between plagiarism checkers
While most plagiarism checkers operate similarly, there are variances between them that influence the types of plagiarism they can identify.
Not all plagiarism checkers share the same database. This can result in substantial variations in outcomes.
Typically, free plagiarism checkers have limited databases. This indicates significant gaps in their capacity to locate matches, particularly with less accessible internet content. The highest-quality plagiarism detectors have more extensive databases, which improves their ability to find matches.
Likewise, the quality of the scanning software varies widely. Many free checkers can only identify precise matches. These checkers are unlikely to flag your work if paraphrased too closely or neglected to include a citation.
Quality plagiarism checkers use 'fingerprinting' to detect non-exact matches between paraphrased and altered material. Here, the software examines pieces of sentences to identify structural similarities.
Similar to an actual fingerprint, each fragment of your text should be unique and distinct from existing document fingerprints. These checkers are capable of identifying matches if they exist.
Plagiarism checkers: Cost-free vs. chargeable
When searching the internet for plagiarism checkers, you will find two options: professional detectors that charge a fee and free plagiarism checkers.
Each alternative has its benefits and drawbacks, so you should carefully examine the two choices.
Free Plagiarism Checkers
Today, the Internet is inundated with service providers that offer free plagiarism checkers. No one can be faulted for choosing a free checker, but it is essential to be aware of the disadvantages of the free ones.
✗ Cons
Vague data protection policies
Untrustworthy service providers
Hidden fees for the complete software package
Word count and character constraints
The apparent benefit of free plagiarism detection is that it will save you money. However, you risk your document's authenticity not being adequately verified.
Most free plagiarism checkers are based on subpar algorithms that check only a few phrases of your work. Your dissertation or thesis may contain unintentional instances of plagiarism.
Paid plagiarism checkers
It would be best to employ a professional, fee-based plagiarism detector for important academic assignments, such as a master's thesis or dissertation. Remember that paying for the verification of your research paper is an investment worth making.
✓ Pros
Finds considerably more instances of plagiarism than free tools
Identifies instances of plagiarism even in documents that have been altered
Will not store or sell your files
Money-back satisfaction guarantee with available live support
Self-Plagiarism Checker enables the detection of self-plagiarism
What cannot be detected by plagiarism checkers?
Although plagiarism checks are constantly changing and becoming more accurate, they cannot yet identify everything.
Ideas and non-text plagiarism
If an idea has been thoroughly reworked or translated, it can be difficult for plagiarism checkers to recognize it as plagiarized. They cannot also assist with other non-textual forms of plagiarism, such as the plagiarism of photographs.
Other non-text items such as translated writings and ideas are also a source of plagiarism, with the same negative implications as more readily detectable forms of plagiarism.
Text from internal databases
Most educational institutions have their in-house database of uploaded work from current and previous students, in addition to the usual plagiarism checkers they use.
Typically, this database is not shared with third parties. This means that your educational institution, and not a commercial plagiarism detector, will likely be the only entity capable of identifying instances of student plagiarism.
Even said, educational institutions sometimes allow other institutions to access their internal database to better detect plagiarism and other forms of academic dishonesty among students. Self-plagiarism and submitting a friend's work as your own are still considered plagiarism and have the same repercussions.