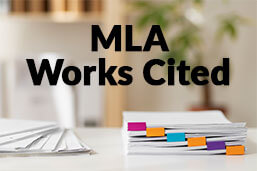 The MLA Works Cited page serves as a comprehensive list detailing every source that was consulted and referenced in your research paper. It stands not only as a testament to the thoroughness of your research but also as a signal of your adherence to academic integrity principles. Ensuring that the Works Cited page is correctly formatted according to MLA guidelines is just as crucial as the research itself. This guide is designed to simplify the process of creating an MLA Works Cited section.
Definition: MLA Works Cited
MLA, or Modern Language Association, is a citation style used in academic papers, research, and literature. Generally adopted throughout the arts and humanities, it serves as a bench-standard citation method. When submitting a paper, an MLA Works Cited page is much like a bibliography in that it lists books, reference papers and other materials in alphabetical order by author with publication details. Unlike a bibliography, however, it consists only of work that is explicitly referenced in your paper, whether via quotations, paraphrases or other indications.
Like other citation methods, the MLA handbook is consistently updated and is currently in its 9th edition. MLA has been in use since 1883, long before the internet and, as such, it adapts to changing research sources. An MLA Works Cited page always appears at the end of your paper with a centered title "Works Cited" and left-aligned formatting that's double-spaced with a hanging indent of 0.5 inches.
Formatting the MLA Works Cited page
Here's how to format an MLA Works Cited section correctly:
Title the MLA Works Cited page "Works Cited" – Center the title
Organize the MLA Works Cited list alphabetically – Author's last name/title of the work
Use a hanging indent of 0.5 inches for each entry.
Include any page numbering conventions in the paper in the upper right-hand corner.
Creating a hanging indent in the MLA Works Cited list
A hanging indent is when the second and succeeding lines of a citation are indented by five spaces or 0.5 inches. It's used to make references clear and easy to read, and applies to all MLA Works Cited entries. All word-processing tools allow you to do this with ease. For those using Microsoft Word, follow these steps:
Highlight the citation entry, right-click and choose "paragraph".
Look for the "indents and spacing" tab. Click and select "hanging" under the "special" heading. Click "OK" to activate the indent.
If you're editing the MLA Works Cited page in Google Docs, you can create a hanging indent as follows:
Highlight the citation entries and head to "format". Select "align & indent" from the drop-down menu and then choose "indentation options".
Choose "hanging" from the "special indent" menu and select "apply". The indentation should be automatically set at 0.5 inches – amend it if isn't.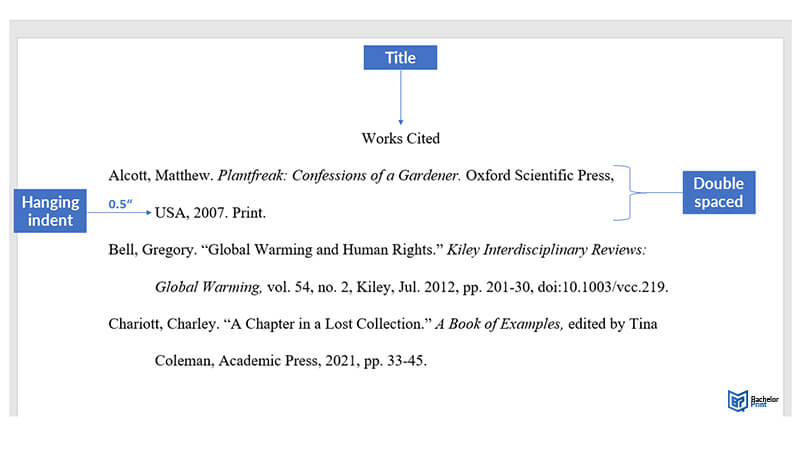 Examples of MLA Works Cited entries
A single citation entry has 9 main components which include (in order) author, title, container, other contributors, version, number, publisher, and publication date. Use every available component when applicable. While each entry has its own specific components, the order is always the same.
Examples of common source types
Here's how to apply the above to individual entries for MLA Works Cited:
Book
When citing a book, you'll provide (in order): The author(s)/editor(s) by last name (as listed on the title page) and the full book title, including any sub-titles (in italics). This is followed by the publisher and publication date. Additional information is required in the form of contributors (editors and translators) and editions, where relevant.
Book Chapter
Use this when referencing an edited book with chapters written by different authors or when referring to a contained work within a collection, like a book of plays or poems. You'll provide the same information as with a book-entry but with emphasis on the particular chapter author (over the book editor, who comes later as an 'other contributor') and page range (where the chapter is located within a book).
Journal article
An MLA Works Cited journal entry requires (in order): The author(s), article title, journal title, volume and issue number, date of publication and page range. For journal articles accessed online, either online-only articles or digital versions of in-print material, the URL must be listed at the end in full with "https://".
Website
An MLA Works Cited entry for an online resource should be treated as seriously as any other reference. Include the author's name (where applicable), followed by the title page, website name (in italics), publication date and URL (without the "https://").
Websites are more likely to contain issues relating to a lack of information on the components listed above. In the case of no author, simply begin with the title page. Where no publication date is given, provide an access date.