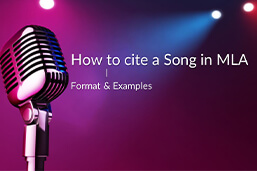 Whenever you try to explore ways of how to cite a song in MLA, depending on the medium you listened to, there are many ways and solid approaches. In an MLA song citation you generally must include the artist (or group) as the composer, the song title, the site's name, and the URL where the song can be located. There are various types of citing a song in MLA. This article provides a thorough guide for how to cite a song in MLA.
Definition: MLA song citation
Just as you might examine a poem for a literary paper or quote a painting for an art history paper, you might find yourself using a song as a source if you're taking music theory classes, and eventually find out how to cite a song in MLA. For all MLA citations, the "medium" of publication must be mentioned. Although there are numerous additional options, print and the web are the two most popular. For placement, see the full list of MLA song citation examples.

How to cite a song in MLA – Physical formats
MLA song citation includes information about the album (or single, EP, etc.) the song is on, such as the title, distributor, year, and, optionally, the format (such as "CD"), when citing a song you downloaded in a tangible format (such as a CD or vinyl). Songs that you downloaded and listened to using a media player are also compatible with this format (e.g., iTunes).
Format of how to cite a song in MLA:
| | |
| --- | --- |
| Format of how to cite a song in MLA: | Author Last name, First name. "Song Title." Album Name. Distributor, Year. Format. |
| MLA Works Cited entry: | Lamar, Kendrick. "Fear." Damn. Top Dawg Entertainment, 2017. CD. |
| MLA in-text citation: | (Lamar 3:55) |
How to cite a song in MLA – Quoting lyrics
Using song lyrics that are structured like poetry: Four or more lines quoted at once should be formatted as a block quote. Separate lines with a slash.
How to cite a song in MLA while quoting lyrics from a transcript:
If you're quoting these lyrics from a transcript that was provided with the music (for example, in the YouTube description or the CD's companion booklet), you should note this at the conclusion of the Works Cited item.
How to Cite a Song in MLA – Optional Information
The MLA citation format is flexible; certain information in a song citation is not required but may be provided if it is pertinent. Suppose your conversation, for instance, concentrates on the work of a particular musician. In that case, you can list that person as the author instead of the main artist and include a brief description of their contribution. Still, the contributor slot should include the name of the lead artist.
| | |
| --- | --- |
| MLA format: | Musician last name, First name, role. "Song Title." Album Name, by Main artist first name Last name. Distributor, Year. Format. |
| MLA Works Cited entry: | Fripp, Robert, guitarist. "St. Elmo's Fire." Another Green World, by Brian Eno. Island Records, 1975. |
| MLA in-text citation: | (Fripp 1:21–45) |
Whenever you try to learn how to cite a song in MLA, it may be essential to cite the composer rather than the performer in the author's position, particularly with classical music. After the title, you can list the specific performer(s) and/or conductor. If the specific performance is unimportant, you can completely ignore this detail.
| | |
| --- | --- |
| MLA format: | Composer last name, First name. Piece/Collection Title. Performance by Performer(s), conducted by Conductor, Distributor, Year. |
| MLA Works Cited entry: | Beethoven, Ludwig van. Symphony No. 9 in D Minor "Choral." The Cleveland Orchestra and Chorus performance was conducted by Christoph von Dohnányi, Telarc, 1985. |
| MLA in-text citation: | (Beethoven) |
FAQs
The primary artist or group that released the music is typically cited as the author of a song in MLA format.
List the website as a container and include a URL if you listened to the song on a streaming service. The album information in this situation is optional; you may include it if it is pertinent to your topic or if it will make it easier for the reader to find the song.
If a source doesn't have an author, begin the MLA Works Cited item with the source title. You can use an alternate locator (such as a chapter number or timestamp for a video or audio source) to locate the pertinent portion in your in-text reference if a source doesn't include page numbers. Cite the author's name if there are no numbered divisions in the source (or the title).