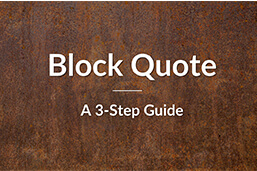 Block quotes serve as an essential element when working with sources, affording authors to include longer parts from original work in a distinctive and structured way. This format not only preserves and highlights the academic integrity of the original source but also makes sure that die audience can distinguish the writer's voice from the cited author's. Correctly applied, block quotes contribute to the credibility and meaning of academic writing, creating a link between the original thought and sourced information.
Definition: Block quote
A block quote is a direct quotation that should not be placed inside quotation marks but separated from the rest of the text by starting it on a new line and indenting it from the left margin. They serve the purpose of improving readability, indicating that the quote is not original content, and illustrating specially formatted content such as letters or song lyrics.
The length of block quotes
The size of a block quote depends on the style guide you use. The styles do not specify the minimum length of a quote. However, quotations that are too long and exceed five lines are usually avoided. Each of those style guides has their own rules that must be followed. The style guides include APA style, MLA, Chicago style, and AMA as discussed below.
| | |
| --- | --- |
| Style guide | Maximum length |
| MLA | Four lines |
| APA | 40 words or four lines |
| Chicago | 100 words or five lines |
Step 1: Introducing the block quote
When material is quoted in academic writing, it is vital to indicate the underlying purpose of the quote. Thus, it is essential to introduce block quotes in your own words explaining how the quote may support your arguments and may be applied in your analysis. If the block quote begins with a full sentence you should introduce it with a full sentence. When introducing a quote in a full sentence, you must end the sentence with a colon.
Step 2: Formatting and citing a block quote
As block quotes are not placed within quotation marks, it is important to format them in a certain way, so the quote can be differentiated from the original content and the rest of the text. These are the general rules that are used when formatting a block quote:
The quote must start on a new line

It should not merge into the rest of the text.
Instead, it should start on its line.

Must be indented from the left margin

Ensure it is indented from the left margin.
The indentation should be about 0.5 inches.
The indentation is usually double spaced.

Is not enclosed in quotation marks

The block quotes are not enclosed in quotation marks.

Punctuations go before citation

Punctuations are placed before citations.

Text after block quote starts on new line

The following sentence of the quote is set on a new line
Formatting Block quotes in different styles
There are different guidelines to formatting a block quote depending on the choice of citation style guide.
MLA
The Modern Language Association Style Guide (MLA) is commonly used by researchers. In this case, the block quotes do not always go beyond four lines. They are:
Introduced with a colon
The indentation is 1 inch from the left margin
They are typed with double spacing
They do not stand within quotation marks
APA style
APA stands for American Psychological Association and is widely used to format texts, mainly in the field of social sciences. Their quotes do not always exceed four lines, however, when they do there are specific rules to be followed. Such rules include:
Beginning the quote in a new line
Typing it double-spaced
No quotation marks
Indenting it 1 inch from the left margin
Chicago Style
The Chicago style guide is mainly used for research in the field of humanities. It was created at the Chicago University and is now in its 17th edition. In this style, it is formatted as follows:
Start the block quote on a new line
Don't enclose it in quotation marks
It must be typed in single-spacing
Indent the whole block quote by 0.5 inch.
Citing a block quote
Citing a block quotation differs when using different style guides.
Formatting more than one paragraph as a block quote
If you have to format a quote that is more than one paragraph, you must indent the entire first paragraph and indent the first line of the second paragraph as well. Also, use line spacing between the two paragraphs.
APA style
To cite the quote in APA style, you need to write the last name of the author, page number and the year. All must be separated by commas.
MLA style
Citing a quote in MLA requires the last name of the author and page number. A period is placed after the last citation.
Chicago Style
This involves giving specifications on the author's title and page number. Sometimes you may also use fuller information.
Step 3: Analyzing and discussing a block quote
Something you should note is to avoid ending a paragraph with a quote. This should be avoided, as an analysis should always follow any quotation you include in your academic writing.
When should you use a block quote
The quotes are primarily used in academic and content writing, e.g., in journalistic writing. They are especially useful and relevant to use when the quote contains points that explain or support your arguments. The frequency of using block quotes depends on the field of study.
| | |
| --- | --- |
| Arts and Humanities | High frequency for elaborative textual analyses |
| Social Sciences | Often useful in participant analyses |
| Scientific Writing | Barely relevant to use |