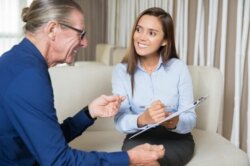 Survey research is the method used in data collection from a specific group of people to gain insight into topics of interest. This method involves asking the predefined group of people questions on one or several issues. The following blog contains FAQs about survey research, step-by-step guide on how to conduct a survey and tips that provide you with insight on how an excellent investigation should look like.
Survey Research – FAQ
Answering the most common questions that students ask about research will help you gain a better understanding of survey research. Some of these questions include:
Survey Research: Definition
This type of study is defined as the process of researching a particular subject through the use of questions. The information collected from the research is consequently analysed to derive a conclusive meaning over the research. Survey research has multiple purposes and can be conducted through several methods depending on the goal of the researcher.
Survey Research: Step-by-Step Guide
As a student, you need to conduct a survey when asked by your professor or when your subject of study demands survey research. The following is a step-by-step guide that will help you perform the study efficiently.

Determine the Purpose of your Survey
The first step in every survey research is to determine a subject of interest. Depending on your research question, you need to identify the target respondents of your survey. This means that you ought to target the specific a specific group of people. This may include college students or customers who frequent a particular mall. Your survey should be generalised to the target audience and should define precisely who you need to get conclusions about.

Create a List of Questions
Survey research can include several types of questions, which include matrix table questions, single or multi-response questions, as well as open and closed questions. In most cases, people like to take part in survey research that has short, concise questions. Ideally, when writing these questions, you need to use simple language and avoid double negations.

Invite Participants
There are numerous ways in which you can invite your correspondents. Depending on your type of survey research, you may send your target audience emails, design a burner, and post it on the school website or board or hand out questionnaires.

Gather your Response
You need to monitor and gather your response, as your final sample size will depend on the number of respondents who completed your survey. Ideally, you may increase the interest and number of participants by providing an incentive. This may include a gift for completion or a lottery.

Analysing the Results
After gathering all the data, you may create charts and graphs to provide a quick reference to your results. You may also utilise text analysis as well as a word cloud on open-ended questions, which will help you pinpoint the common response trends in your survey research. If you are using an online survey, the data will be saved automatically, which means that you can analyse your results right away.
As mentioned earlier, problem-solving can also be viewed as art. Depending on your skill level, you will find that there are numerous ways of laying out a given task. Applying some elegance to this process guarantees that even the uninformed reader will understand what it is that you are trying to do. Furthermore, a problem that has been broken down into constituent sections always appears simple.

Writing a Report
The result you get from your analysis will come in handy in writing a concluding report. This report is meant to explain your findings and state whether they have met your goals. The description should be short and conclusive of the entire data. A successful study should provide you with reliable answers to the subject in question, which should allow you to create a final report.
Five tips for a good Survey Research
Use the following tips to create an excellent survey research that will provide conclusive results.
Define its purpose from the get-go
Ensure that you have a clear objective with your study. The last thing you want is to end up with a set of results that have no real decision or direction.
Use concise and straightforward questions
Most people respond to questions that they can understand. A questionnaire with endless questions will automatically put off potential respondents.
Keep your Survey short and focused
It would help if you kept your study short to attract respondents and ensure completion
Provide an incentive to attract a significant number of responders
An incentive comes in handy in attracting people to respond to your survey and gives them a reason to help you out.
Response scales show the intensity of your attitude towards the subject in question, which helps provide in-depth feedback.
In a Nutshell
Conducting great survey research is an easy task that you should handle before completing your college or university education
An excellent survey research should provide you with reliable, transparent and actionable insight regarding your quest
The process is easy if you understand it and inexpensive to conduct
The results of a survey research study are essential as they can help you understand vita subjects in life