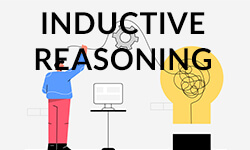 Inductive reasoning is a type of research done mostly under observation and different theories as a requirement at the end of the research process. You will understand how certain theories apply to your research work when formulating research questions and objectives. To do research effectively, you need to understand how theories apply to your work. You'll learn data collection methods and practical research theories during this process, gaining valuable skills and knowledge.
Definition: Inductive reasoning
What is inductive reasoning? It is part of the methodology and a form of reasoning in which a general principle is drawn from a set of specific observations or cases. Inductive reasoning, also called inductive logic, moves from particular observations to broader generalizations, unlike deductive reasoning.
Inductive reasoning is commonly used in various fields such as science, where hypotheses are often formed based on observed data and then tested through experiments. This form of reasoning is a powerful method because it can lead to new discoveries in these fields. It is also prevalent in everyday decision-making. However, the conclusions reached through inductive reasoning are subject to revision or invalidation if further information becomes available. Since inductive reasoning is not definitive, it is typically evaluated based on the degree of probability rather than certainty.
This conclusion isn't guaranteed to be correct, but it's a reasonable guess based on your specific experiences.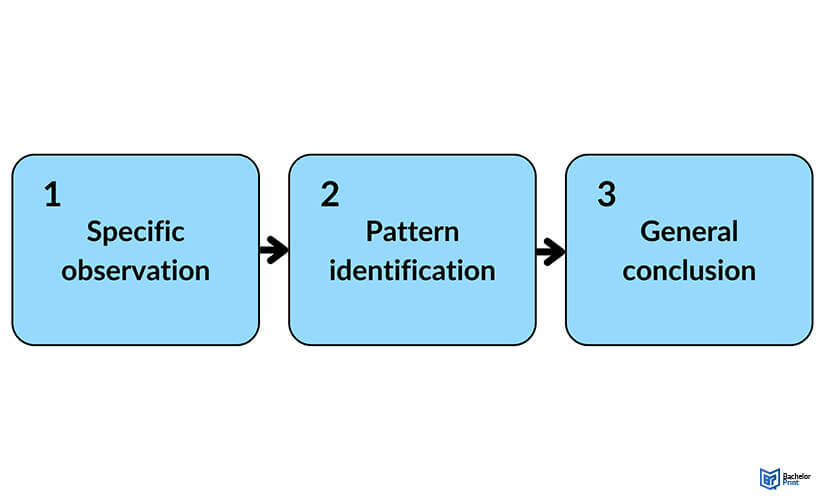 Stages
Inductive research generally follows a sequence of stages designed for data collection, analyzing it, and building a theory. The specific stages can vary depending on the research discipline and methodology, but a simplified process of inductive reasoning might look something like this.
Observation
The first step of inductive reasoning is making observations or gathering data like interviews or surveys.
Identifying patterns
Search for patterns, trends, or commonalities within the information collected.
Generating hypotheses
Generate hypotheses that you think will account for the phenomena you've observed.
Data collection for validation
Collect additional data to validate or test the generated hypotheses through further observations, experiments, or the collection of additional qualitative data.
Analysis
Analyze the new data in the context of your hypotheses. Use statistical tools or qualitative methods to evaluate whether the new data supports or contradicts the initial hypotheses.
Conclusion
Draw conclusions about whether the data supported the hypotheses. At this stage of inductive reasoning, you may generalize.
Formulating theory
If the hypotheses are consistently supported, they may be developed into a theory that explains the phenomenon in general terms, moving from specific instances to broader generalizations.
Reporting
Finally, the results are usually compiled into a research paper to share with others. This often includes a discussion of the implications of the findings, limitations, and suggestions for future research.
Review and scrutiny
In academic settings, the research undergoes peer review, where other experts in the field evaluate the methods and conclusions.
It's important to note that inductive research is not a one-way street. Typically, the process is iterative, meaning that researchers go back and forth between stages as new data emerges, or new patterns are identified. Furthermore, the findings are typically considered more as strong suggestions rather than definitive conclusions. This is because inductive arguments are based on specific observations and may not be universally applicable.
Example of inductive reasoning
Let's use the example of a researcher who wants to study why some high school students perform better in online classes compared to traditional in-person classes. The researcher uses an inductive reasoning approach throughout the research process.
By going through these stages, the researcher has moved from initial observations to a more generalized theory using inductive reasoning.
Types of reasoning
There are several types of inductive reasoning.
Inductive generalization
Statistical generalization
Casual reasoning
Sign reasoning
Analogical reasoning
Each type of inductive reasoning has its advantages and drawbacks and is appropriate in different contexts. Importantly, all forms provide strong but not conclusive evidence, meaning that they offer likely rather than guaranteed conclusions.
Inductive generalization
Inductive generalization involves creating broad conclusions based on a limited set of observations. This type of reasoning draws assumptions that if something is true for some members of a category, then it's likely true for all members of that category. Furthermore, inductive reasoning generalizations can vary drastically in strength. This depends on the quality and number of arguments and observations used.
Inductive generalizations are evaluated based on numerous criteria to determine their strength or reliability. Here are some of the key criteria:
Sample size: A substantial sample size is essential for reliable observations.
Random sampling: Using probability sampling techniques enhances the ability to extend your conclusions to a broader population.
Diversity of observations: To ensure external validity, your observations should capture a wide range of scenarios or conditions.
Counterevidence: If there is any evidence that goes against your observations, it weakens the accuracy and reliability of your generalization.
Statistical generalization
Statistical generalization is another type of inductive reasoning that is similar to inductive generalization. However, statistical data backs it, which is why it's statistical reasoning. It uses a sample that is intended to be representative of a population to make general claims about the entire population.
Causal reasoning
Another type of inductive reasoning is causal reasoning. The causal reasoning statement identifies relationships between cause and effect. It often involves determining a pattern and then providing a hypothesis for why that pattern exists, suggesting a cause-and-effect relationship. For causal reasoning, it's especially helpful if there is a strong relationship between the cause and the effect. Generally speaking, this type of reasoning includes a causal link between the conclusion and the premise.
Sign reasoning
Sign reasoning involves drawing a conclusion about a purely correlational relationship based on one or more indicators or "signs". One event may act as a "sign" that another event will occur or is currently occurring. In essence, the presence of one thing indicates the presence or occurrence of another.
Analogical reasoning
Analogical reasoning involves comparing two similar situations and proposing that what is true in one case is likely true in the other. This is why analogical reasoning is also called comparison reasoning. Analogical reasoning involves using knowledge from a similar context to make predictions or solve problems in a new context.
Inductive reasoning in research
In research, inductive reasoning is often used to build new theories or hypotheses based on observed data. This approach is particularly prevalent in fields like social sciences, psychology, and biology, among others. The goal of an inductive research method is to move from specific observations to broader generalizations or theories. Researchers using inductive reasoning frequently follow qualitative or mixed-methods research, although it can also be part of quantitative research. This form of reasoning plays a crucial role in academic writing, which is why it's important to understand it. In the following, we will provide an inductive reasoning example, which demonstrates how to use this approach in research.
The researcher publishes these findings, acknowledging that while the data proposes a strong correlation, it doesn't definitively prove causation. Further research besides inductive reasoning, possibly using a deductive approach or experimental methods, could be conducted to test this theory more rigorously.
Inductive reasoning vs. deductive reasoning
Here's a brief overview of the differences between inductive and deductive reasoning. We have a separate article on this topic if you want to read more about forms of scientific reasoning.
| | | |
| --- | --- | --- |
| Aspect | Inductive reasoning | Deductive reasoning |
| Direction of reasoning | From specific to general | From general to specific |
| Starting point | Observations for specific cases | General principles or axioms |
| Goal | Form generalizations or theories | Derive specific, logically certain conclusions |
| Strength of conclusion | Probable, but not certain | Certain, if premises are true |
| Certainty of conclusion | Likely but can be revised | Certain if the premises are true |
| Method | Empirical (involves data collection) | Logical (involves application of rules) |
| Common uses | Research, everyday decision-making. | Formal logic, law, mathematics |
| Example | All observed swans are white, so all swans might be white. | All men are mortal. Socrates is a man. Therefore, Socrates is mortal. |
Note: Inductive reasoning is frequently mistaken for deductive reasoning.
Limitations
Just like any research method, this inductive reasoning has its limitations. They include the following:
You cannot be able to draw a conclusion based on an inductive approach. This is because it will not have any proof. However, you can invalidate it.
An inductive approach requires extensive research to gain findings.
A study with inductive reasoning requires enough resources, since occasionally the methods of data collection can be very demanding.