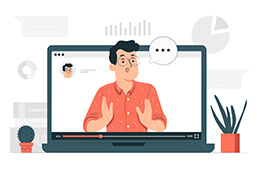 If you're writing an academic essay, article, or dissertation, citing sources correctly is a must to ensure credibility and avoid plagiarism. Recorded film is a crucial primary source and, increasingly, a vital repository for secondary academic discussion, opinion, and explanation. When you cite a video, there are a variety of ways to format the citation depending on the chosen style guide. This article with outline a detailed guide to citing a video in APA style, Chicago style, and MLA.
Definition: Cite a video
A video citation is any direct reference in a written work to a unique and relevant piece of recorded visual content. When you cite a video, you link it directly to your prose.
Academic video citations always come in two parts. A reference comprises the in-text marker (i.e. the page mark or indent text) and bibliography entry (i.e. a full postscript line of text detailing the video's exact location, creator, and, if relevant, timestamp). You can construct these references by using a manual set-style template or by using an automatic digital reference generator.
Ideally, each reference made when you cite a video should link to the easiest-to-access (e.g. online) and most complete copy of the work available (as of publication) for the reader. When you cite a video, state the shortest available version of the "shareable" web link.
Cite a video in APA style
If you're using APA style, cite the uploader's organization's title or the uploader's (or broadcasters') name only. Don't cite the creator unless they're the same person as the uploader. However, you should always include the channel's name in square brackets if it's different from the uploader.
With APA, the video title is always printed in italics. "Video" is always added afterward in square brackets to designate the format. Stops always mark partitions.
If relevant, you can add video timestamps directly in-text to link to quotes, scenes, or sections using APA. Timestamp where the part you want to reference starts.
Use the abbreviated format:
Cite a video in Chicago style
Chicago references can use the same formatting for their footnotes and bibliographical text. Alternatively, you can shorten your Chicago style footnote for simplicity or display a specific timestamp when you cite a video.
Use dividing stops for bibliography sectioning and commas for footnote entries. The author's (uploader) name can be a person or an organization. No italics or brackets are needed. Video titles are always displayed in quotation marks.
You should always use the full format when writing a Chicago style bibliography. If you're making a specific reference, change the length variable to timestamp the section you wish to cite (e.g. 01:55).
Cite a video in MLA style
MLA is very similar in construction to Chicago. However, the footnotes and bibliography references for MLA are always identical. The order of information is also slightly different. Again, use (Author's surname, timestamp) in-text to reference a specific time when you cite a video in MLA.
Cite a video in MLA Style with the same author and uploader
Occasionally, you might need to cite a video where the author and uploader are the same. To avoid redundancy, MLA allows you to eliminate the author's name from the start of a duplicate reference.
For MLA in-text citations, simply replace the author's name with the video title.
Finding the information to cite a video
With online video websites (e.g., YouTube), everything you need to find to cite a video (usually) appears on the bar under the video window itself. Alternatively, try right-clicking on the video itself.
The length of the video and timestamps frequently appear on the playback scrollbar. Click on "Share" to see the short URL.
If you can't find the name of a specific author, all the styles listed above allow you to omit that section if need be.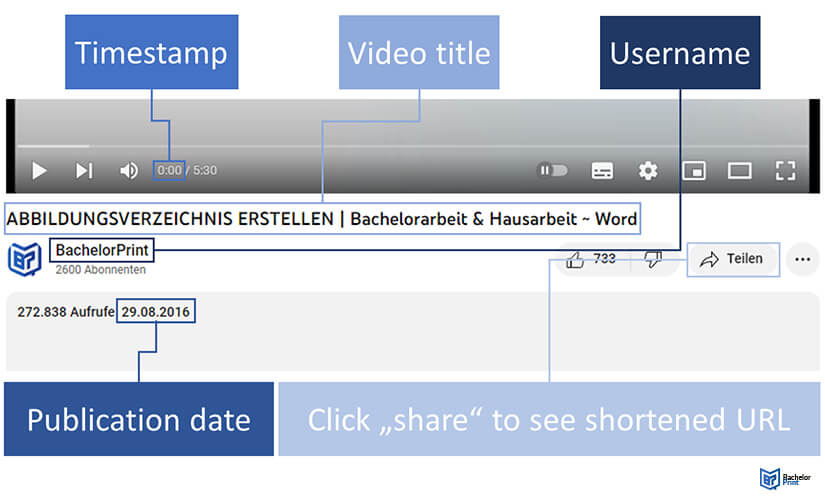 FAQs
Author
Platform (YouTube)
Title
Publication (Upload) Date
URL
Yes. Stealing, misattributing, or inventing a unique statement (allegedly) made on film by not citing still counts as malpractice.
State the following information:
Most significant author
Episode title
Original broadcast channel (e.g. BBC 1)
First transmission (air) date