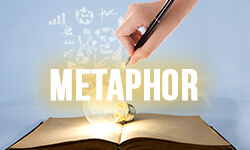 In the realm of academic writing, clarity and precision are key, but occasionally a straightforward sentence just isn't enough. This is where metaphors come in, serving as powerful tools to illuminate complex ideas. Far from mere decorative flourishes, they simplify, clarify, and deepen academic arguments, as demonstrated in this article with examples. Furthermore, we will explore the utility and appropriateness of employing these figures of speech in various academic disciplines.
Definition: Metaphor
The definitions of metaphor often describe it as a figure of speech where one thing is elaborated on as if it were something else, helping to create more vivid imagery in our minds. In simpler terms, the meaning of a metaphor is to explain one thing by directly comparing it to something else, even though the two things are not usually alike. For the comparison, you choose a picture that you use to explain and illustrate the characteristics of the issue you are explaining. Using figurative language, we can convey complex ideas in an easy-to-understand manner by illuminating the characteristics of one thing through the familiar aspects of another. They are found in folk or field songs, films, popular songs, and even presidential speeches.
Etymology
The term "metaphor" has its roots in the Greek language, originating from the word "metaphora", which itself is derived from the verb "metapherein".
"meta-" means "across" or "beyond"
"pherein" means "to carry"
When putting these parts together, "metapherein" literally translates to "carry across" or "transfer". This etymological background provides insight into the core function: to carry the qualities or meaning of one concept or object across to another. In essence, it serves as a linguistic bridge that links two unrelated things, allowing us to understand one in terms of the other.
Metaphor examples
They are pervasive in both everyday speech and specialized fields, illustrating concepts with clarity and nuance. Understanding a few examples can illuminate their utility and versatility.
Types
There are many types of metaphors, each serving a unique purpose in communication and understanding. Here are some common types, explained succinctly.
Simple or direct metaphor
In a simple or direct metaphor, one thing is directly equated with another.
Extended metaphor
An extended metaphor is also called a sustained metaphor. It is not just used once but is extended across a passage, a poem, or even an entire work. Here, the initial comparison between two unlike things is stretched and elaborated upon, allowing for multiple attributes or facets of the metaphorical concept to be explored. In the following, there will be two examples of sustained metaphors from famous works.
These famous metaphor examples illustrate how a figure of speech can be extended throughout more verses and sentences, but also across a whole book.
Implied metaphor
Rather than stating the figure of speech directly, an implied metaphor suggests the comparison.
Mixed metaphor
A mixed metaphor combines elements of multiple, unrelated metaphors, often creating a confusing or humorous effect. However, without wanting to be funny, using a mixed metaphor may appear awkward or even sabotage your argument.
Dead metaphor
These have been used so much that their original impact has been lost, and they are understood as literal expressions. Using these may bore your reader. You should rather take a familiar metaphor and change it unconventionally to create something new and funny.
Metaphor synonyms
While it's a specific term in literary and rhetorical analysis with few exact synonyms, several terms capture aspects of metaphorical language or operate in similar ways. Some of these include:
Figure of speech
Analogy
Simile
Symbol
Allegory
Trope
Idiom
Emblem
Parable
Metonymy
| | |
| --- | --- |
| Synonym | Example |
| Allegory | The novel uses a farm as an allegoryfor political corruption. |
| Figure of speech | She often used a figure of speech to make her point more vivid. |
| Idiom | Saying "it's raining cats and dogs" is a popular idiom to describe heavy rain. |
Note: While these terms are related and may overlap in some contexts, they are not strictly synonymous with "metaphor", which has its distinct definition and usage.
Simile and analogy
While figures of speech are powerful tools for conveying abstract ideas through comparison, not all comparisons or symbolic expressions qualify as metaphors. Understanding what doesn't count as one can clarify their unique role in language and thought.
Metaphor vs. simile
Both are figures of speech used to make comparisons. They both serve to elucidate ideas, evoke emotions, and provide new perspectives on subjects.
To understand the difference between metaphors and similes, we will list them. The primary difference lies in the way the comparison is made. A metaphor is an explicit comparison without using "like" or "as" and equates two unlike things for rhetorical effect. A simile uses "like" or "as" to make obvious comparisons and acknowledges their inherent differences even as it highlights certain similarities. The comparisons in similes make them easier to differentiate.
Metaphor vs. analogy
Both metaphors and analogies aim to clarify or explain one thing by comparing it to another. They are both used to shed light on complex or abstract concepts by relating them to something more concrete or familiar.
An analogy is generally more elaborated, often using a set structure to make the comparison more explicit (e.g., "A is to B as C is to D"). Analogies don't need to imply that the two compared things are identical in all aspects. They rather highlight a specific relationship or aspect that the things share. Metaphors, on the other hand, make a more sweeping, implicit assertion that one thing is another, engaging the imagination more deeply to fill in the gaps.
Metaphors in academic writing
The use of metaphors in academic writing is a topic that warrants careful consideration. While they are commonly associated with creative or literary expression, they also find a home in academic essays. However, their appropriateness can vary depending on the context, the subject, and the academic discipline in question.
Is it appropriate to use them?
The appropriateness of metaphors in academic writing largely depends on the context:
Clarity and precision: If it serves to clarify a complex idea or concept, then it can be a valuable tool. However, if it introduces ambiguity or misinterpretation, it's best avoided.
Audience: Understanding the expectations of your academic audience is crucial. Some disciplines are more accepting of metaphorical language than others.
Purpose: They can be persuasive, but should not sensationalize or replace rigorous analysis.
Balance: A well-placed figure of speech can illuminate an idea, but overuse can lead to a lack of clarity or can make the work seem less rigorous.
In summary, while figures of speech can be employed effectively in various academic papers, like dissertations, their use should be carefully considered. Always aim for clarity and ensure that it enhances, not clouds, the primary message of your work.
Are they used in academic writing?
Yes, they are indeed used in academic writing, but their frequency and application can differ significantly across disciplines. In fields like literature, philosophy, and some social sciences, metaphors can be instrumental in conveying complex ideas succinctly and vividly. They can add nuance to analyses and can make the material more engaging for the reader.
In contrast, scientific and technical fields tend to prioritize direct, unambiguous language to convey data and findings in their research papers. Here, the use of figures of speech is generally less common and can sometimes be viewed as imprecise or subjective.
How to come up with a metaphor
Creating a figure of speech involves both a keen sense of observation and a bit of creative thinking. Here's a step-by-step guide on how to create a well-crafted metaphor.
Identify the subject
Begin by determining the idea, emotion, or object you want to describe. This will be used for comparison. For instance, if you're trying to describe love's complexities, "love" is your subject.
Understand the characteristics
List out the properties, attributes, or feelings associated with your subject. If your subject is "love", you might think about attributes like "complicated", "intense", "unpredictable", or "comforting".
Find a comparison
Think of another object or situation that shares some of those characteristics but is different in essence. For "love", you might choose "a maze", which is also complicated and unpredictable.
Eliminate "like" or "as"
Remember, this kind of figure of speech makes a direct comparison without using "like" or "as" (those would make it a simile). So instead of saying "Love is like a maze", you say "Love is a maze".
Test for clarity and resonance
Ask yourself if it effectively highlights the attributes you want to focus on. Does it add depth to the reader's understanding of the subject? If the answer is yes, you've probably got a strong metaphor.
Refine and expand (optional)
You can further enhance it by adding details or extending it. In the example, you might say, "Love is a maze, full of twists and turns where you can find both treasure and trapdoors."
Contextualize
Make sure it fits perfectly within the context you're using it.
Get feedback
Every so often, what is clear to you may not be so for others. It can be helpful to ask a friend or colleague for their opinion.
Revise as needed
Based on feedback and further reflection, make any necessary adjustments.
What does "metaphorically" mean?
The term "metaphorically" refers to the figurative, rather than the literal, interpretation of a word, phrase, or situation. When something is described as happening "metaphorically", it means that the description is symbolic and not to be understood as actually taking place in a physical or factual manner.
Using "metaphorically" allows the speaker or writer to emphasize a point or emotion through imaginative or symbolic language. It offers a nuanced way to express feelings, ideas, or conditions that might be too subtle or complex to describe directly.