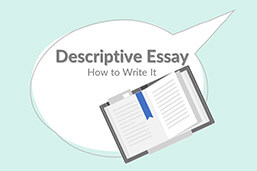 Descriptive essays enable students to learn the fundamentals of writing and self-expression. It is also possible to write descriptive essays far into your professional career, depending on your line of work and writing objectives. This post will discuss descriptive essays and how to write them properly.
Definition: Descriptive Essay
A descriptive essay is a genre of composition or writing that vividly describes a subject, procedure or event.
It is usually used to test the student's capacity to document an account of a specific experience with a subject.
It also provides a large room for creativity as its aim is to paint a clear image that can move the reader's mind.
Descriptive essays are relatively different from the other genres since the goal is to appeal to the five senses; taste, hearing, sight, smell and touch.
Every good descriptive essay should be able to appeal to all these senses. It should also focus on a specific topic and have a particular purpose.
For instance, you can write about your experiences and the lessons you learnt from them.
Basically, descriptive essays are all about converting your thought processes into writing.
Descriptive Essay: Finding a Topic
Choosing a topic is the first and arguably the most important step in descriptive essay writing. There are several ways you can go about picking a topic for your essay, including brainstorming and reading example descriptive essays to get general ideas.
For most students, brainstorming is the most effective technique since it focuses more on personal experiences and things they are interested in. It also lets you break down broad ideas into simple and workable topics. For instance, you can take a subject such as camping and think about their purpose and what people do in them. As you brainstorm, make a list of possible ideas you can comfortably write about in detail. When done, note topics that suit you and are more likely to move your readers.
Another technique you can use to choose a topic is reading examples of descriptive essays for general ideas. Focus on the direction of the essay and how the writer has organised the subject details within the content. You can pick essays that align with your interests, so you choose a topic you are comfortable writing about. Here are a few topic ideas you can use for your next descriptive essay:
Camping in the woods for the very first time
My driving test
The wild Highway-13 car pursuit
The interview predicament
The wedding day
Structure of a Descriptive Essay
Descriptive essays have a relatively straightforward structure, which consists of an introduction, body paragraphs and a conclusion to finalise the writer's aim of writing the piece.
The Introduction
Your introduction provides general background info about the subject/topic you are writing about. It should have a hook that enables your writer to relate to the senses you are trying to tap into. You should also form a thesis statement that introduces a claim (not necessarily from an opinion or argument point).
The Body
The body can be divided into three subcategories:
Gives an in-depth physical description of the subject.
Describes a subject in the given context (can be physical or temporal environment).
Describes the emotional effect of the subject on the people in the surrounding.
Conclusion
Summarises all the main points in the body text.
Descriptive Essay: A Vivid Description
Figurative language in descriptive essays involves the use of words in a non-literal way, such as metaphors and similes, to create memorable effects. Writing your content that way is essential since it opens up the window for creativity and distinguishes your essay from any other piece.
Here are the important things to consider when writing a descriptive essay:
Pick a Topic: A good descriptive essay focuses on a specific topic (subject, person or event) at all times. It is important to identify the purpose of your essay before you choose a topic, make an outline and begin writing. To choose a topic, brainstorm ideas or research essays that align with your interests.
Compile Details: You will need a lot of details in your descriptive essay since you have to paint a picture in the reader's mind. So, once you have a topic, the next step is to list all the details, including physical characteristics, dates, sensory information and names. Basically, collect all the details and group them to make access easier as you write.
Create an Outline: An outline would help you write an organised descriptive essay. So, create an outline that lists the details to discuss/write about in each paragraph.
Write the Introduction: The introduction maps out your entire essay and lays down the foundation by providing background information regarding the subject. It should also have a hook that helps readers relate to the senses you are trying to tap into.
Write the Body: The body is made of multiple paragraphs. Each paragraph should start with a topic sentence introducing the subject. Follow the outline to parse out details and be as specific as possible without overwhelming the reader with too much info.
Write the Conclusion: Your conclusion summarises the primary details you have included in your body. Avoid introducing new ideas in the conclusion; rather, create a body paragraph if you feel there are some details you left out. Once you are done, do not forget to review and proofread your descriptive essay before submitting it.
FAQs
Some of the main characteristics of descriptive essays include:
Vivid description
Figurative speech
Precise language
Thoughtful organisation
Descriptive essays are used to describe a place, thing or person in a way that creates a picture in the reader's mind.
A descriptive essay is a genre of writing that provides a vivid description of a subject, a procedure or an event.