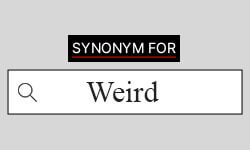 The word "weird" describes something being of erratic or strange nature differing from the norm. Another word for "weird" is strange. More synonyms of the word "weird" will be accounted for in this article.
Find suitable synonyms for your academic writing
On our overview page for synonyms, you can find the best options of synonyms for a vast variety of words that are used in academic writing.
"Weird" – General synonyms
The following illustrates other words for "weird" that may be used in everyday conversation as well as in academic writing.
Synonyms of the word "weird" are:
Abnormal
Atypical
Bizarre
Curious
Eccentric
Erratic
Extraordinary
Mysterious
Odd
Offbeat
Peculiar
Rare
Remarkable
Strange
Uncommon
Unusual
Ungracious
Unmannerly
"Weird" – Synonyms used in academic writing
In an academic context, the word "weird" means that something or someone is strange. Synonyms for "weird" used in academic writing will be shown below.
Are you looking for suitable synonyms for "weird" for your academic paper? Have a look at the table below with the top suggestions from our BachelorPrint-Team.
| | |
| --- | --- |
| "Weird" Synonyms | Examples |
| Abnormal | This experiment shows a weird correlation of variables in the results. |
| | This experiment shows an abnormal correlation of variables in the results. |
| Atypical | The behavior of most participants was evaluated as weird. |
| | The behavior of most participants was evaluated as atypical. |
| Uncommon | In conclusion, the occurrence of this phenomenon is rather weird. |
| | In conclusion, the occurrence of this phenomenon is rather uncommon. |