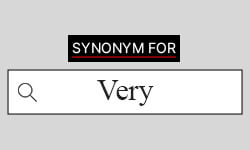 "Very" – Meaning
The word "very" is an adverb used to emphasize or intensify the meaning of another word or phrase, indicating a high degree or great extent.
Another word for very is extremely or exact. However, more synonyms will be stated in the following article.
Find suitable synonyms for your academic writing
On our overview page for synonyms, you can find the best options of synonyms for a vast variety of words that are used in academic writing.
"Very" – General synonyms
The word "very" can be used in various ways and has many different meanings. In the following subheadings, these will be presented in a detailed list.
"Very" in the sense of extremely
Synonyms of the word very in the sense of extremely will be listed below.
Absolutely
Acutely
Amply
Astonishingly
Awfully
Certainly
Considerably
Deary
Decidedly
Deeply
Eminently
Emphatically
Exaggeratedly
Exceedingly
Excessively
Extensively
Extraordinarily
Extremely
Greatly
Highly
Incredibly
Indispensably
Largely
Notably
Noticeably
Particularly
Positively
Powerfully
Pressingly
Pretty
Prodigiously
Profoundly
Really
Remarkably
Substantially
Superlatively
Surpassingly
Surprisingly
Terribly
Truly
Uncommonly
Unusually
Vastly
Wonderfully
"Very" in the sense of exact
Synonyms of the word very in the sense of exact will be listed below.
Actual
Appropriate
Authentic
Bare
Bona fide
Correct
Especial
Express
Genuine
Ideal
Identical
Indubitable
Mere
Model
Perfect
Plain
Precise
Pure
Right
Same
Selfsame
Sheer
Simple
Special
Sure-enough
True
Undoubted
Unqualified
Unquestionable
Veritable
Vey same
"Very" – Synonyms used in academic writing
In academic writing, "very" is often used as an intensifier to emphasize the degree or extent of a particular characteristic or quality. However, the word may be considered too informal for academic writing, and more precise language may be preferred. Using "very" too frequently may be perceived as repetitive or redundant, so using more specific and alternating language is recommended when possible.
Synonyms for very that can be used for academic writing include extremely, incredibly, or remarkably.
Are you looking for suitable synonyms for "very" for your academic paper? Have a look at the table below with the top suggestions from our BachelorPrint-Team.
| | |
| --- | --- |
| "Very" Synonyms | Examples |
| Exceedingly | The findings of the study were very important, as they challenged previous assumptions. |
| | The findings of the study were exceedingly important, as they challenged previous assumptions. |
| Extremely | The experiment produced very accurate results, with a margin of error of less than 1 %. |
| | The experiment produced extremely accurate results, with a margin of error of less than 1 %. |
| Incredibly | The team's discovery was very significant, with implications for a wide range of fields. |
| | The team's discovery was incredibly significant, with implications for a wide range of fields. |
| Remarkably | The author's study provided a very detailed analysis of previously underexplored topics. |
| | The author's study provided a remarkably detailed analysis of previously underexplored topics. |