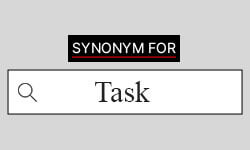 The word "task" is another expression for obligation or work that can be executed. Another word for "task" is "job." More synonyms of the word "task" will be listed in this article with its various meanings.
"Task" – General synonyms
The following illustrates other words for "task" that may be used in everyday conversation as well as in academic writing. Synonyms of the word "task" are:
Assignment
Charge
Chore
Circuit
Commission
Duty
Endeavor
Enterprise
Errand
Function
Job
Mission
Operation
Project
Responsibility
Find suitable synonyms for your academic writing
On our overview page for synonyms, you can find the best options of synonyms for a vast variety of words that are used in academic writing.
"Task" – Synonyms used in academic writing
In an academic context, the word "task" is mostly referred to something that needs to be done. Synonyms for "task" used in academic writing will be shown below.
Are you looking for suitable synonyms for "task" for your academic paper? Have a look at the table below with the top suggestions from our BachelorPrint-Team.
| | |
| --- | --- |
| "Task" Synonyms | Examples |
| Assignment | Most interns are occupied with tasks supporting the syllabus of a given subject. |
| | Most interns are occupied with assignments supporting the syllabus of a given subject. |
| Project | A lot of IT students drop out of college due to unmanageable tasks. |
| | A lot of IT students drop out of college due to unmanageable projects. |
| Operation | The task of dissection must be perfected in the medical field to become a doctor. |
| | The operation of dissection must be perfected in the medical field to become a doctor. |