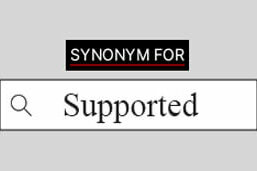 The word "supported" expresses that someone agrees with something, often by assisting, e.g. financially or emotionally. It may also describe that an object is physically held up by something. In academic writing, this word is commonly used to communicate whether an argument or claim is proven or disproven in an analysis.
Synonyms will be introduced in the following article.
Find suitable synonyms for your academic writing
On our overview page for synonyms, you can find the best options of synonyms for a vast variety of words that are used in academic writing.
"Supported" – General synonyms
The following illustrates another word for "supported" that may be used in everyday conversation as well as in academic writing.
Agreed with
Aided
Approved
Assisted
Backed
Endorsed
Guided
Held
Helped
Justified
Plead for
Proven
Stood behind
Stood up for
Stuck by
Stuck up for
Sustained
Verified
"Supported" – Synonyms used in academic writing
In an academic context, the word "supported" is used to back up a claim and to indicate whether an argument is proven or disproven.
Are you looking for another word for "supported" for your academic paper? Have a look at the table below with the 5 top suggestions from our BachelorPrint-Team.
| | |
| --- | --- |
| "Supported" Synonyms | Examples |
| Agreed with | This statement has been supported by the fact that… |
| | This statement has agreed with the fact that… |
| Assisted | The participant supported the process of this method… |
| | The participant assisted with the process of this method… |
| Backed | This information supported the results of this study. |
| | This information backed the results of this study. |
| Proved | The outcome was supported by the final analysis. |
| | The outcome was proven by the final analysis. |
| Verified | This information supported the results of this study. |
| | This information verified the results of this study. |