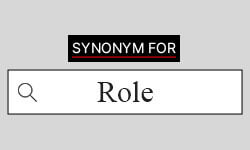 The word "role" is a noun and refers to the importance or the function of something. Another word for "role" is function. More synonyms of the word "role" will be accounted for in this article.
Find suitable synonyms for your academic writing
On our overview page for synonyms, you can find the best options of synonyms for a vast variety of words that are used in academic writing.
"Role" – General synonyms
The following illustrates other words for "role" that may be used in everyday conversation as well as in academic writing. Synonyms of the word "role" are:
Activity
Capacity
Calling
Duty
Function
Importance
Involvement
Mission
Niche
Part
Participation
Place
Position
Purpose
Responsibility
"Role" – Synonyms used in academic writing
In an academic context, the word "role" refers to the importance of something or someone in the given context. Synonyms for "role" used in academic writing will be shown below.
Are you looking for suitable synonyms for "role" for your academic paper? Have a look at the table below with the top suggestions from our BachelorPrint-Team.
| | |
| --- | --- |
| "Role" Synonyms | Examples |
| Function | Accelerating the process played an important role in the experiment. |
| | Accelerating the process was an important function in the experiment. |
| Importance | The expansion of soft skills nowadays is of an increasing role. |
| | The expansion of soft skills nowadays is of an increasing importance. |
| Position | The high role of the boss does not have any effect on the employees. |
| | The high position of the boss does not have any effect on the employees. |