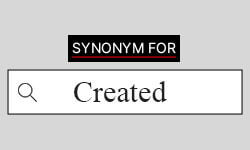 The word "created" defines the process of making something new or inventing something. "Created" is the simple past tense and past participle of the verb "create."
More synonyms will be listed in this article.
Find suitable synonyms for your academic writing
On our overview page for synonyms, you can find the best options of synonyms for a vast variety of words that are used in academic writing.
General synonyms for "created"
The following illustrates synonyms for "created" that are used in general as well as in academic writing.
Assembled
Constructed
Finished
Manufactured
Put together
Completed
Fabricated
Made
Produced
Established
Generated
Composed
Formulated
Invented
Made-up
Improvised
Fake
Artificial
Spurious
Synthetic
Fictive
Synonyms for "created" in academic writing
In an academic context, the word "created" is used to define something that is the result of an action or someone's creative process.
Are you looking for suiting synonyms for "created" for your academic paper? Have a look at the table below with the 5 top suggestions from our BachelorPrint-Team.
| | |
| --- | --- |
| "Created" Synonyms | Examples |
| Constructed | As rules for the process were created… |
| | As rules for the process were constructed… |
| Established | As rules for the process were created… |
| | As rules for the process were established… |
| Generated | The tables that were created… |
| | The tables that were generated… |
| Composed | The results are based on the content that was self-created. |
| | The results are based on the content that was self-composed. |
| Formulated | The results are based on the content that was self-created. |
| | The results are based on the content that was self-formulated. |