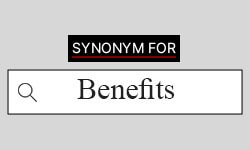 The word "benefits" refers to a positive side outcome one can profit from. Another word for "benefits" is advantages. More synonyms of the word "Benefits" will be listed in this article with its various meanings.
"Benefits" – General synonyms
The following illustrates other words for "benefits" that may be used in everyday conversation as well as in academic writing. Synonyms of the word "benefits" are:
Assistances
Blessings
Bonuses
Resources
Supports
Sustenances
Find suitable synonyms for your academic writing
On our overview page for synonyms, you can find the best options of synonyms for a vast variety of words that are used in academic writing.
"Benefits" – Synonyms used in academic writing
In an academic context, the word "benefits" is mostly used to describe advantages. Synonyms for "Benefits" used in academic writing will be shown below.
Are you looking for suitable synonyms for "Benefits" for your academic paper? Have a look at the table below with the top suggestions from our BachelorPrint-Team.
| | |
| --- | --- |
| "Benefits" Synonyms | Examples |
| Advantages | The benefits of having an academic education are that one is prepared for the corporate world. |
| | An advantage of having an academic education is that one is prepared for the corporate world. |
| Gifts | The introduction of electronic calculators was an efficient benefit for mathematicians. |
| | The introduction of electronic calculators was an efficient gift for mathematicians. |
| Extras | All college programs usually have benefits to make student life easier. |
| | All college programs usually have extras to make student life easier. |