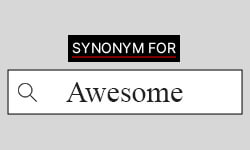 The word "awesome" is generally used in informal contexts and expresses great admiration, appreciation, or respect.
Another word for "awesome" is amazing or phenomenal. However, more synonyms will be listed in this article.
Find suitable synonyms for your academic writing
On our overview page for synonyms, you can find the best options of synonyms for a vast variety of words that are used in academic writing.
"Awesome" – General synonyms
The following illustrates other words for "awesome" that may be used in everyday conversation as well as in academic writing.
Admirable
Astounding
Awe-inspiring
Breathtaking
Exceptional
Exquisite
Extraordinary
Impressive
Majestic
Outstanding
Phenomenal
Remarkable
Splendid
Stunning
Superb
"Awesome" – Synonyms used in academic writing
In an academic context, the word "awesome" is an informal expression, therefore, it is better to use other words for academic writing. Synonyms for "awesome" used in academic writing will be shown below.
Are you looking for suitable synonyms for "awesome" for your academic paper? Have a look at the table below with the top suggestions from our BachelorPrint-Team.
| | |
| --- | --- |
| "Awesome" Synonyms | Examples |
| Exceptional | The lecture gave awesome input on the research topic. |
| | The lecture gave exceptional input on the research topic. |
| Remarkable | The experiment showed awesome progress. |
| | The experiment showed remarkable progress. |
| Outstanding | Lisa's presentation was awesome. |
| | Lisa's presentation was outstanding. |