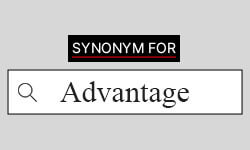 The word "advantage" describes a favorable quality one possesses that puts them in a state of preference. Another word for "advantage" is benefit. More synonyms of the word "advantage" will be listed in this article.
Find suitable synonyms for your academic writing
On our overview page for synonyms, you can find the best options of synonyms for a vast variety of words that are used in academic writing.
"Advantage" – General synonyms
The following illustrates other words for "advantage" that may be used in everyday conversation as well as in academic writing. Synonyms of the word "Advantage" are:
Aid
Asset
Benefit
Blessing
Bulge
Dominance
Edge
Help
Lead
Odds
Opportunity
Privilege
Resource
Superiority
Stead
Support
Sustenance
Upper hand
Vantage
"Advantage" – Synonyms used in academic writing
In an academic context, the word "advantage" means that someone or something is in possession of various benefits or better conditions. Synonyms for "advantage" used in academic writing will be shown below.
Are you looking for suitable synonyms for "advantage" for your academic paper? Take a look at the table below with the top suggestions from our BachelorPrint-Team.
| | |
| --- | --- |
| "Advantage" Synonyms | Examples |
| Benefit | The advantage of using this method… |
| | The benefit of using this method… |
| Privilege | European people usually profit of several advantages in society. |
| | European people usually profit of several privileges in society. |
| Superiority | Joining this company is good for your career because it is known for its advantage among other corporate firms. |
| | Joining this company is good for your career because it is known for its superiority among other corporate firms. |