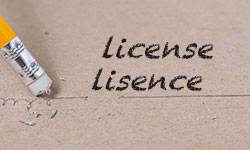 It's common for English language learners to face difficulties with spelling specific words. This may be a result of differences in spelling between similar words in other languages or inconsistencies in pronunciation. One of the most frequent spelling mistakes is the word "license/lisence." In this article, we aim to provide a thorough guide on the proper spelling of this word.
The correct spelling of "license"
The word "license" can function as a noun as well as a verb. It has its roots in the Latin word "licentia," which means "freedom" or "permission". The English language adopted it in the 14th century from Old French, where it was spelled as "licence." As time passed, it evolved into its modern spelling, "license."
Incorrect spelling
lisence
The most common misspelling of "license" is "lisence," where the letter first "c" is changed to an "s." This is likely due to a common phenomenon known as metathesis. Metathesis occurs when the positions of letters or sounds in a word are swapped, leading to a different arrangement of the letters than what is standard or correct. This is why the "c" is swapped with an "s".
Mnemonic for spelling "license"
Often, it's difficult to remember the correct spelling of a certain word. With this simple mnemonic, you can easily recall the correct spelling of "license" by remembering the order of the letters.
Note: "C before S" is a helpful reminder to spell the word correctly: "L-I-C-E-N-S-E."
FAQs
"License" is spelled correctly as L-I-C-E-N-S-E.
"Licence" is the only correct spelling in both British and American English.
It's difficult to remember the exact correct spelling of a commonly misspelled word, however there is one sentence or rather sequence that can help you remember the correct spelling of "licence".
"C before S" is a helpful reminder to spell the word correctly: "L-I-C-E-N-S-E."