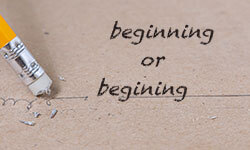 There are many terms in the English language that students frequently misspell. This may be because similar words in other languages are spelled differently, or the pronunciation of a word does not align with the spelling completely. One of the most commonly made spelling mistakes is made in the word "beginning". This article will outline everything you need to know about it.
The correct spelling of "beginning"
The word "beginning" is a noun and has one correct spelling, as it come from the Middle English word "beginning" or "beginnynge" which comes from the verb "beginnen". The roots of this word "beginnen" is in the Old English "beginnan".
Correct spelling
beginning
Incorrect spelling
begining
The correct spelling of "beginning" is with two "n" in the middle of the word. The most common misspelling is that instead of two "n" some write it with one "n", which is always incorrect. There are more ways of misspelling a word, but this one is the most common mistake.
FAQs
"Beginning" is a noun that refers to the point in time or space at which something starts.
"Beginning" is spelled B-E-G-I-N-N-I-N-G. It's important to remember the double "n" in the middle and at the end
"Beginning" can be used in various ways in a sentence. For example:
"In the beginning, there was only darkness."
"She was nervous at the beginning of the presentation."
"This is just the beginning of a long journey."