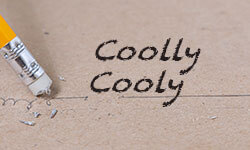 Minor errors may appear insignificant, yet they have the capacity to significantly influence our written communication: spelling mistakes. Take, for example, the often misspelled word "coolly". Even the most experienced writers frequently misspell it as "cooly", which can lead to misunderstandings. This article aims to clarify all you need to understand about this particular mistake, leaving no questions unanswered.
The correct spelling of "coolly"
"Coolly" functions as an adverb in the English language and is used to describe doing something in a calm and composed manner, without showing excitement, nervousness, or any strong emotion. The word "coolly" is derived from the adjective "cool", which has its origins in Old English. In linguistic terms, the "-ly"-suffix is often added to adjectives to form adverbs in English. In the case of "cool", adding "-ly" gives us "coolly", which serves to describe the manner in which an action is performed.
The correct spelling of the term "coolly" is with two "l" and not only one. "Cooly" is the most common misspelling of the word "coolly". This could be attributed to the similar way the two words are pronounced and how they are represented phonetically. "Coolly" and "cooly" sound the same when said.
Mnemonic for spelling "coolly"
However, sometimes it's difficult to remember the correct spelling of a certain word. Luckily, there's a mnemonic for spelling "coolly" correctly. Each initial letter in the phrase corresponds to a letter in the word "coolly". This way, you can remember the double "o" and the double "l" that are sometimes easy to misspell.
Note: Cats Often Offer Lovely Lullabies Yearly