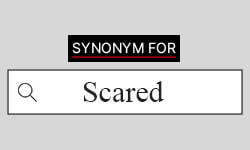 The word "scared" describes a state of fear, panic, alarm or dismay. It can be perceived as an unsettling sensation that is felt in frightening situations.
Another word for "scared" is fearful or terrified. However, more synonyms will be listed in this article.
Find suitable synonyms for your academic writing
On our overview page for synonyms, you can find the best options of synonyms for a vast variety of words that are used in academic writing.
"Scared" – General synonyms
The following illustrates other words for "scared" that may be used in everyday conversation as well as in academic writing.
Afraid
Alarmed
Anxious
Apprehensive
Fearful
Frightened
Horrified
Intimidated
Panicky
Perturbed
Petrified
Terrified
Terrorized
Trepidatious
Uneasy
"Scared" – Synonyms used in academic writing
In an academic context, the word "scared" can depict different meanings. It is used in various disciplines such as psychology, general science studies and research, etc. In general, it refers to a human reaction that can be triggered by alarming situations. However, more synonyms for "scared" used in academic writing will be shown below.
Are you looking for suitable synonyms for "scared" for your academic paper? Have a look at the table below with the top suggestions from our BachelorPrint-Team.
| | |
| --- | --- |
| "Scared" Synonyms | Examples |
| Petrified | The majority of the population is scared of environmental changes. |
| | The majority of the population is petrified of environmental changes. |
| Apprehensive | The study showed that especially women are scared walking alone at night. |
| | The study showed that especially women are apprehensive walking alone at night. |
| Intimidated | They are scared of the final calculations this year. |
| | They are intimidated by the final calculations this year. |