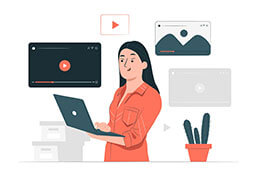 YouTube videos, like any other digital videos, are legitimate sources. To cite a YouTube video, you just treat it like any other type of video reference. This guide explores the MLA YouTube video citation, providing clear instructions for accurate and proper citation. We will also include where to find the needed information for the citation. Mastering the art of citing YouTube videos ensures academic integrity and the effective integration of multimedia sources into scholarly work.
Definition: MLA YouTube video citation
The MLA Handbook is now in its 9th edition with updates on online content. When making an MLA YouTube video citation, you must first create an in-text citation with the author's last name and a timestamp of the relevant passage, if necessary.
This in-text MLA YouTube video citation is followed up with a Works Cited entry.
To reference an entire movie or television episode from YouTube as a source, treat it as a standard movie entry.
MLA YouTube video citation: Finding information
All the information required for an MLA YouTube video citation is found below the video itself. This includes:
Name of the channel
Video title
Date of publication
You may have to click "show more" to discover extra information, but the basics are all clearly available.
MLA YouTube video citation: Creator
As you might expect, the uploader of a YouTube video is often the same person or group that created it. In this case, you needn't repeat the name in the citation. Instead, begin your citation with the title (in quotation marks), followed by the uploader.
This is often the case with organizations and news networks, like the following MLA YouTube video citation entry from The Guardian:

An interview video works somewhat differently, with the interviewee's name appearing as the author instead of the creator. For instance, the following interview from The Guardian would appear as an MLA YouTube video citation like this:
MLA YouTube video citation: Timestamps
Timestamps are used when you are taking a direct quote from a video or referring to a specific section. In this case, the YouTube video's timestamp works just like a page number in textual work. Here, page numbers are included within the in-text citation and not in the Works Cited entry.