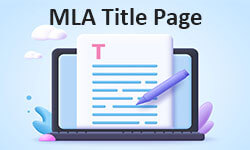 When writing academic papers, it is essential to follow the correct style guides and formats. The MLA style is one of the most commonly used style guides in academic writing. Regarding this, the MLA title page is defined as one of the most important pages. In general, the title page represents the first introduction to your paper, involving details about the title, institution, and author. This article will delve more into how to format an MLA title page and how to create an MLA header.
Definition: MLA title page
As a key component of an academic research paper, the MLA title page illustrates the initial page of the paper with crucial information such as the author's name, institution, title of the paper, submission date, and course details. The title page is formatted in accordance with the MLA style guide and aims to create an organized presentation of the paper.
How to format the MLA title page
Here is an outline of the main components of the title page:
Title of the paper: The title must be centered, in standard capitalization, and in the middle of the page. Don't use bold, italics, or underlining (exceptions: emphasis and citations).
Author's name: Your name should be placed left-aligned at the top of the page. Don't include titles (e.g., "Dr." or "Ph.D.")
Institution: Mention the educational institution (e.g., your University) below your name, also left-aligned.
Course Information: Beneath the institution, add the name of the professor and the name and number of the course. Align this also with the left margin.
Submission date: This must also be left-aligned and placed below the course information.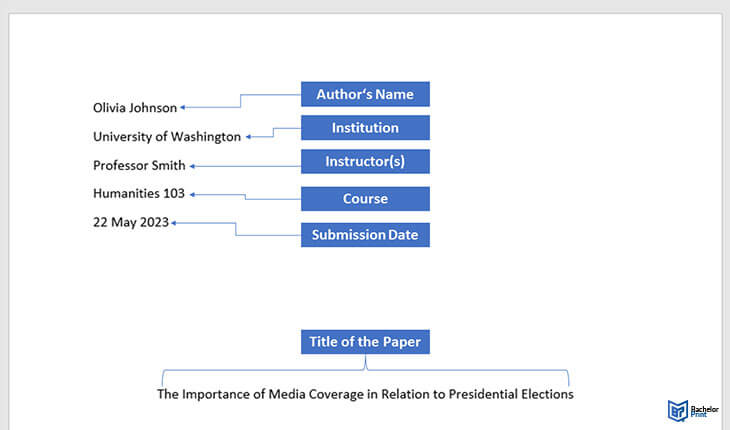 How to create an MLA header
When following the MLA format, each subsequent page of your paper should also include a header. The MLA header includes the author's name, instructor(s), course, and submission date aligned to the left margin and the last name of the author followed by the page number aligned to the right margin. Here's an example: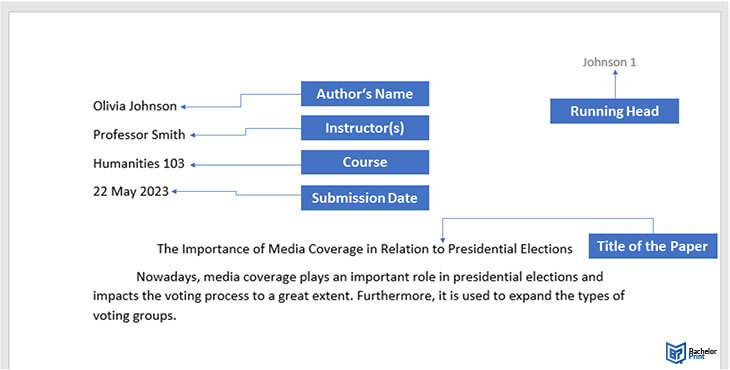 FAQs
No, in general, papers that consist of fewer than four pages should exclude the title page unless your instructor requests one. Remember to always consult your instructor's guidelines for specific requirements, as they may have variations or additional instructions.
The MLA style does not require a running head on the title page. The header with your last name and page number begins on the second page and continues throughout the rest of the document.
Use a legible font such as Arial, Calibri, or Times New Roman with a size of 12 points. Make sure you use the same font and size throughout the whole paper to maintain consistency.