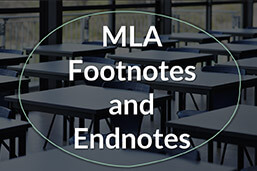 MLA footnotes and endnotes are used to add additional bibliographical clarity or to provide explanatory information to your paper. MLA recommends a specific format for these notes, how they appear, and guidance on when to use them. Learn how to incorporate MLA footnotes and endnotes below to produce a high-quality paper or essay.
Definition: MLA footnotes and endnotes
The MLA style always recommends in-text citations when citing sources within your paper. Unlike other writing styles, like Chicago, notes should never be used in place of citations. Instead, MLA footnotes and endnotes are used for the following:
When citing many sources at once.
To provide additional information regarding a citation, like a translation source.
To elaborate on ideas that would otherwise take up far too much space in parentheses.
To give extra examples that won't fit in the main body.
MLA footnotes and endnotes appear either at the bottom of the page or end of the main body. While you can pick either method, be consistent and use just one in your paper. You can cite sources within your notes, too; so, remember to include the full reference within your works cited section.
MLA footnotes and endnotes – Format
MLA footnotes and endnotes are formatted with superscript numbers in the text that correspond with an equivalently numbered note later. It's a general convention that a superscript number should appear at the end of a sentence following a period. However, it's also okay to place a superscript number within a sentence after the punctuation of a clause if it helps with clarity. This is particularly useful if there is more than one note within a sentence. An exception to this rule is the use of dashes. If you include a dash (—), include your superscript number before the dash, not after it (¹—).
Here are some common examples of note use and superscript placement within a text:
The note itself appears either at the bottom or end of the text. The corresponding note number is written again in superscript, followed by the note content in the same font as your main body in a smaller text size, usually 10-point text. The first line is also indented. Most word processing programs contain an option for automatic note formatting under the "insert" tab. Your note will appear something like this:
How to format the endnotes page
If you're using endnotes instead of footnotes, list them at the end of your text on a new page just before the works cited section. This should be center titled either "Notes" or "Endnotes" at the top of the page. As with other MLA formatting conventions, the endnotes section should be double spaced. For example:
MLA footnotes and endnotes – Multiple sources
MLA footnotes and endnotes provide extra space to cite multiple lengthy sources. This allows you to save space in the text to allow your argument to flow better. This note information can include more sources or supplementary information on the topic/source that's relevant to the paper. If a note consists solely of sources, you don't need to use parentheses on the page number/range. For example:
MLA footnotes and endnotes – Citation/translation explanations
MLA footnotes and endnotes should be used to elaborate on information that's crucial to understanding the source. For instance, information on translations, including your own translations of a text, can be clarified within the notes. Information about editions or specifics to do with editions should also be included in note form. For example:
MLA footnotes and endnotes – Elaborate ideas
You can use a note to elaborate on ideas that are mentioned in passing within the text. This is where additional information would be very useful to the reader but not within the argument's main body. If the information is crucial to your argument, it should be within the main body. While there is no written guidance on note length, you shouldn't rely on notes to illustrate your knowledge or research, and they should be used sparingly. Be wary about creating excessively long notes as this can be distracting. For example:
MLA footnotes and endnotes – Add more examples
Sometimes, the breadth of examples can affect the flow of your argument within the text. Here, MLA footnotes and endnotes can be used to provide these extra examples with adequate space. Remember, this isn't a place to simply list sources related to your argument, but sources that enhance your argument or provide useful background for your reader. For instance, many writers opt to place counterexamples in their notes so as to address different opinions/arguments on the topic. For example: